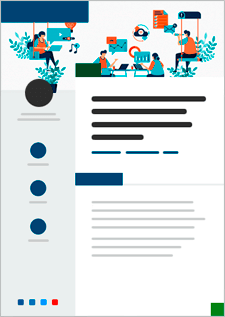 Read in PDF
Podcast
Sediment and tremors: the impact of AI on legal services
Abstract
The legal profession has evolved gradually over time, layer on layer, keeping the same basic structure for a hundred years. There has been no earthquake. But as machines have grown increasingly competent, there are tremors - points of friction threatening to open cracks. Firms cannot stay neutral in this environment. Whether by action or inaction, they are taking a strategic position. In general, lawyers have been slow to adopt new technology at all.
This article identifies different strategies entrepreneurs are using to break into legal services, and outlines how law firms are responding. Some are trying to get ahead of the curve by engaging with new technology, but finding practical barriers of different nature. The authors try to illuminate the main challenges that law firms are facing. For example, the big amount of different providers makes it difficult to choose the right one, legal technology might seem complicated to some, and there is some resistance in trying new products for the first time.
Market leading law firms' show some certain characteristics when it comes to the use of legal technology. Our primary market research suggests that market leaders are looking across internal silos, identifying key problems and prioritising, before putting providers to the test. Those who are comfortable with the implementation of technology in their firm do have some strategies that differ from those who are less familiar with it.
Technology clearly has an impact on the legal sector. Artificial intelligence technologies can improve processes and provide added value to clients and it is to expect that innovation in this segment will lead to new standards for practicing law.
Key Words: Artificial Intelligence, LegalTech, Analytics, Business Intelligence, Technology
Take home
Although law is a fragmented market and therefore there is no one product or technology that suits all different practice areas, new technology does have the potential to change how legal services are delivered, and its use can increase the success of law firms. Thus, it can be concluded that AI, and technology in general, does have a positive impact on legal services.
Full article
Sediment and tremors: the impact of AI on legal services
Imagine a time machine that brings a lawyer from the 19th century into a modern firm. How would they fare?
It would take some time to explain the office furniture. There would be a new gadget for talking to invisible clients, and another gadget for writing without a quill. There would be ways to keep files without paper, and a library living inside a machine.
But after the initial shock, the 19th century lawyer would see the day-to-day business of practicing law has not changed that much for most firms.
They would recognise a profession that imparts legal knowledge in conference, that measures value in time and experience, that puts a premium on the written word, and that, absent obvious points of difference, competes for work through personal networks and expensive lunches.
This article is about the potential impact of technology on legal services, particularly Artificial Intelligence (AI) technologies. The starting point though, is to acknowledge that lawyers have been slow to adopt new technology at all.
There is no evidence yet that this trend is changing. A recent report by HSBC and The Lawyer found retrenchment in spending on new technology compared with business-as-usual systems. [1]
So why do some start-ups and investors believe that change is coming to the industry in spite of history?
Looking across the international LegalTech scene, we believe there are broadly five strategies entrepreneurs are adopting to bring legal services into the 21st century. These are the tremors that will determine how AI impacts the law.
Clients
Some start-ups are ignoring law firms and going straight to clients. The strategy here is obvious. Where increasingly competent machines can perform legal tasks at lower cost, clients see these benefits go straight to their bottom line. On the other hand, law firms might hesitate at the thought of cannibalising revenue.
For example, Personio, a German start-up, just raised $75 million with its operating system for human resources. Their platform generates employment contracts, cutting law firms out of this work.
This strategy is also gaining traction in the B2C context, with US start-up DoNotPay providing self-service tools for consumers to bring small claims. And they have done this with marketing that is hostile to lawyers.
Big spenders
Other start-ups are working with some of the largest law firms in the world to develop new products. Luminance, based in the UK, is an AI platform for document review, using language agnostic algorithms to identify contract risks. The Magic Circle firm Slaughter and May were one of their earliest investors.
Global law firms have significant purchasing power, and a number have established LegalTech accelerators. Broadly, the focus is on products that will increase the quality of legal work done by lawyers - tools that will continue to justify, or even enhance, the level of fees these firms are able to charge.
Squeezed middle
Law firms operating in the mid-market are some of the most innovative in the world. They rely on a diet of lower value work delivered in volume, leading to higher value, complex instructions. Operating at relatively tight margins, some of these firms have been early adopters of AI to improve processes and provide added value to clients.
This is where Sibyl operates. We believe the urgent business threats in this segment of the market will drive innovation, leading to new standards for practicing law generally. This will include a data-driven approach to legal risk that gives clients deep insight into their business.
In-house
Unlike private practice where lawyers generate revenue, in-house lawyers are viewed as a cost centre. Culturally, they tend to be closer to the parts of the business they serve, and more curious about how they might apply processes from product or sales teams to law.
A number of start-ups are targeting in-house teams, particularly in the context of contract management and process automation. For example, Flipbox, an Australian start-up on the GLIDE accelerator in Singapore, have developed a no code platform that in-house lawyers can use to automate workflows.
Challenger
Finally, there have been new entrants to the legal market who are essentially law firms using technology to differentiate their service. LegalZoom, the US unicorn, is probably the best known. They use efficient business processes to out-compete traditional firms in consumer markets.
There are also a number of start-ups replacing firms with platforms of freelance lawyers - Lexoo and Lawyers on Demand, for example. These companies are supported by relatively well-established technologies, such as remote working tools - a reminder that AI is not the only technology that can have an impact.
Practical barriers
Given the pressures and opportunities outlined above, law firms have to respond in some way to new technologies - even if that means a strategic decision not to invest.
At Sibyl, we have spent the last year talking to around 40 law firms about the main challenges they are facing.
Where firms were looking to technology for solutions (by no means all cases), there remained practical barriers. We have collected the three main themes below, along with the ways in which some law firms are overcoming these barriers.
'There are too many providers'
A common feeling was that there are too many LegalTech start-ups out there. It is hard to know who does what, and who can do what they say. Some lawyers we spoke to were overwhelmed.
It is true that there are lots of providers making lots of bold claims. But this is also true for most markets, from toothpaste, to cars, to conservatories. Normally, buyers find ways through to get what they want. So it's revealing that in the case of legal technology, market noise is seen as a blocker. We suggest reasons below.
'This is a problem for DeepMind'
There is a caricature of lawyers trying to send emails through fax machines. In fact, our experience is that lawyers are very switched-on to new technologies. They read a lot about AI, they advise their clients about AI, they write thought leadership pieces on AI and its ethical implications.
One side-effect we noticed was that, when lawyers are thinking about their own business, they often jump straight to the cutting edge. The intellectual debate around neural networks sometimes gets in the way of simpler solutions that require less upfront data and have lower compliance costs.
'But no one else is using it'
Law firms see themselves as cautious and conservative buyers of technology compared to other industries. Certainly, most firms do not like being the first to try a new product.
Scratching the surface though, we heard multiple stories of firms being profligate with their technology budget. Typically this involved buying a solution and then not using it, or buying a platform and only using a fraction of the functionality.
And this is because lawyers are extremely sensitive to their competition. So if a law firm operating in the same vertical invested in a new product, often competitors would follow suit. Counter-intuitively, this suggests law firms need to be more cautious, or at least, more rigorous when buying new technology.
Best practice
While some firms are clearly struggling to engage, others were very sophisticated buyers. We found that those most comfortable with technology providers do three things.
Shopping list
Firstly, they have a shopping list. This involves working out what business outcomes they want to achieve, and prioritising them.
Without going through this process, it is easy for firms to waste time in the wrong shop - talking to providers who are fundamentally selling something else. And this might be the reason why the LegalTech landscape feels crowded to some firms.
There are many ways for businesses to prioritise. Our preferred model involves mapping opportunities against value and feasibility.
The reason we like this approach is that it literally gets lawyers and technologists on the same page. Technology providers can help lawyers assess feasibility, and they will do this because they want to understand what adds most value to lawyers.
Horizontal working
Identifying priorities is particularly difficult in law firms. Each partner is running their own business in separate verticals. And if the firm offers a full range of services, it is not obvious where to focus.
So the second behaviour we noticed was that the firms with clear shopping lists tend to have people working across different practices areas. They would have this both at senior levels to set strategy and make decisions, and at operational levels, working closely with lawyers to identify day-to-day pain points.
We found this function was critical for breaking down silos, setting a strategy and fostering the necessary buy-in for effective deployment.
Sandbox
Finally, the most rigorous way to test new technology is to see how it performs in a realistic environment.
Once a firm has decided where it wants to focus, it becomes cheaper to select and locate the information available for the relevant decision point or process, identify what other systems are involved, and re-create this system in an isolated environment.
Creating that environment can take time, resources and political capital. But once completed, the firm has a data asset it can re-use until someone can prove they have a solution that works.
Sibyl use case
At Sibyl, we believe tech will simplify legal services, allowing lawyers to advise with greater accuracy, speed and insight than ever before. Sibyl is leading that change with a data-driven approach to legal claims.
Working with a Top 50 UK law firm, we have developed a product that makes sense of messy, multiple-format expert reports, extracting valuable data points and generating abstract insights. Sibyl is 97% accurate at this task (more accurate than humans).
Armed with simplified, clean data, we are deploying AI to supercharge lawyers with predictions of case outcomes and settlement values, and provide superior management information to clients. All in a way that is fully explainable.
The success of this project has been the result of true collaboration. Our product vision has aligned neatly with the firm's strategic objectives and shopping list. They were able to share test data in a safe, low barrier environment, which allowed us to demonstrate our capability. And by working closely with users, we have created a product to solve multiple pain points at once.
Conclusion
Law is a fragmented market. There are different pressures for different practice areas, sectors and firm sizes. There is no one product or technology that has taken the industry by storm.
But entrepreneurs are finding multiple fissures where new technology has the potential to change how legal services are delivered. If these start to open across the profession, law firms will have to decide whether or not to cleave to their current way of working. From what we have found, market leaders are well equipped to adapt. Other firms less so.
For more information about Sibyl, please get in touch at info@sibylai.com, or visit sibylai.com.
1. P.2, 'Legal Tech Analysis: Investment and growth strategies in law firms', HSBC and The Lawyer (2019).