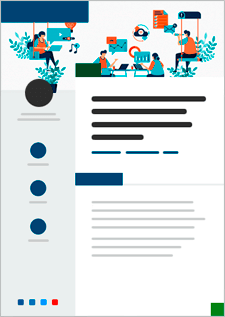 Read in PDF
Podcast
Innovation by legal design: a glimpse of your future!
Abstract
---
Legal design will renew the legal sector
The legal profession is known for being conservative with established paradigms of practice. However, over the past few years, we observe a radical change due to the advances in technology, the arrival of new stakeholders and mostly the client's behaviour evolving.
Things have changed, indeed we live in a world of instantaneity and immediate information: today's consumers (individuals and businesses) expect their legal service experience to be as easy as ordering food with Uber.
Adding to this, the crisis period that we are currently going through, made agility and adaptability a game changer for all businesses.
It's time to innovate and legal design may be the answer to comply with the new state of the legal market: a methodology and a new state of mind to deliver law in the most impactful way.
Take home
In a few words, legal design is a new way of thinking: a human-centered or user-centric one and not law-centered as most legal experts are used to.
Full article
Innovation by legal design: a glimpse of your future!
LEGAL DESIGN IS THE ANSWER FOR CURRENT CHALLENGES
Innovation has become a crucial issue for all organizations: law firms, in-house lawyers, administrations, public authorities...
A recent study by Wolters Kluwer also shows that clients' needs have completely changed: they expect added value from their law firm (knowledge of tech tools to be more efficient and productive, setting up feedback collection processes, undertaking process optimization projects, etc.)[1].
Leaders of in-house legal functions seek systematic change: 81% say they are pursuing transformational or incremental improvement in the way they run their function [2].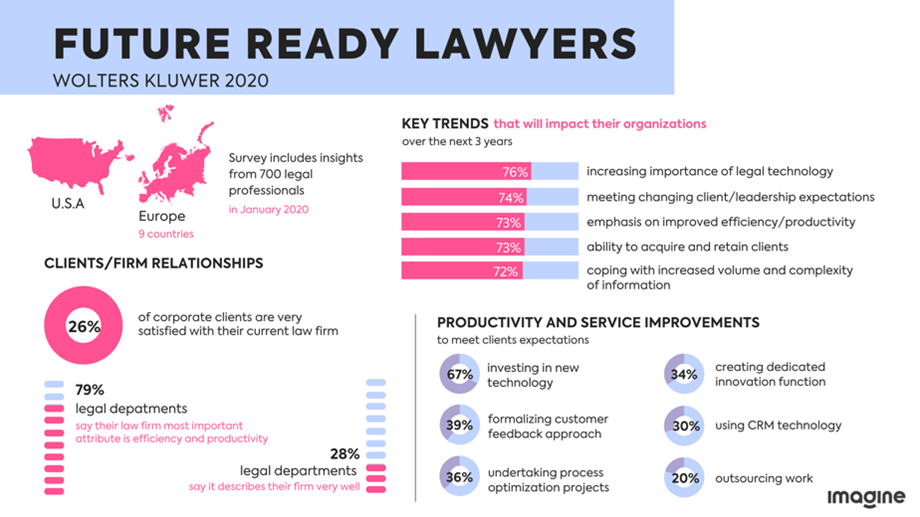 Legal professionals are facing questions such as: is my legal document understandable for my clients? Is my business designed to fit client's demand? Is the use of technology relevant? Are other skillsets needed to stand out?
Legal design can respond to this need of innovation.
LEGAL DESIGN IS A NEW VISION
As defined by Margaret Hagan, the pioneer in the field: "legal design is the application of human centered design to the world of law, to make legal systems and services more human-centered, usable and satisfying".
In a few words, legal design is a new way of thinking: a human-centered or user-centric one and not law-centered as most legal experts are used to.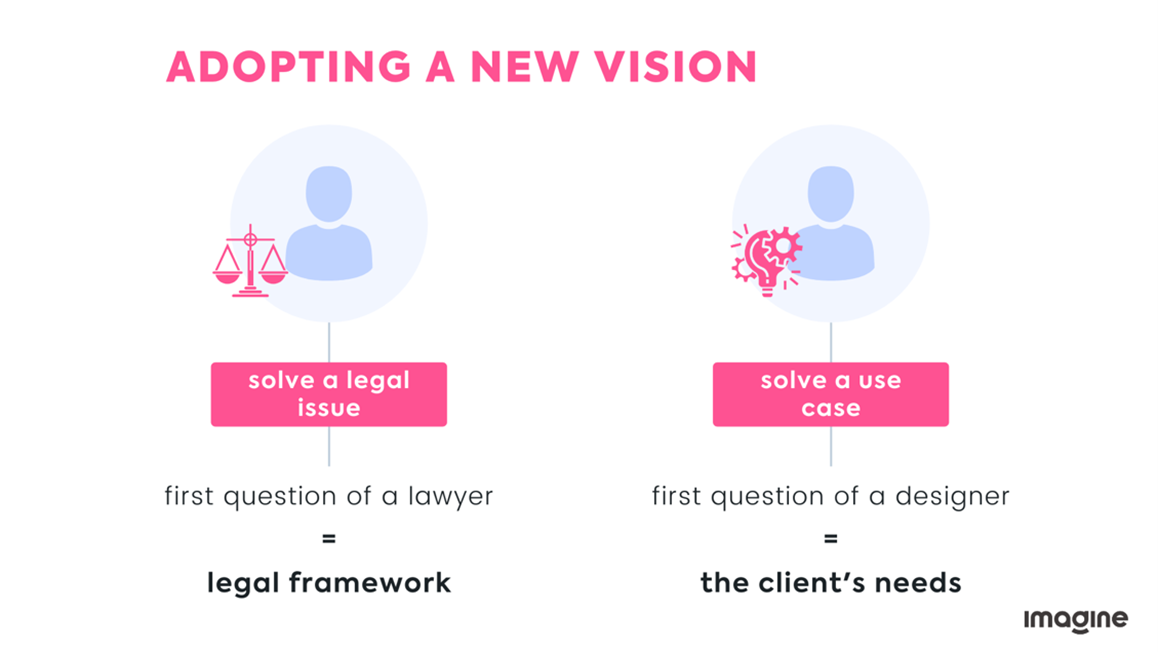 If we refer to the graphic below, we can understand the relevance:
The lawyer's mission is to solve a legal problem. The designer's mission is to solve a use case. It is the method of resolution that differs, the lawyer will focus first on the legal framework while the designer will analyze the client's needs in depth. The lawyer will instantly adopt an analytical way of thinking while the designer will empathize with his client and adopt a creative way of thinking.
We believe lawyer's embracing designer's approach and skillset brings significant value in terms of acquiring new clients, retain clients in the long run and differentiation in the legal market.
LEGAL DESIGN IS ABOUT HAVING A GLOBAL VIEW
Adapting the methodology of designers is not enough. The legal design process is about reconsidering one's practice as a whole.
About law
For centuries, lawyers and legal experts drafted legal documents without worrying about the recipient's comprehension skills and yet the law is a linguistic code mastered by experts only.
The first step in the legal design process is therefore making accessible all legal outputs.
When the problem being addressed involves legal information, plain language treatment is essential in order for the targeted readers:
- to easily understand what is at stake,
- to promote a better interaction,
- secure negotiations
- and avoid litigation.
Plain language, when it comes to online legal information, is also a higher chance of attracting potential clients.
The plain legal language movement initiated in the 70's has grown in recent times egged on by consumer's demand.
Different countries passed legislations that require documents such as insurance policies and consumer contracts to be written in plain language with common words and clear phrasing that readers can understand the first time through (Plain Writing Act 2010 in USA [3], Flavour Project led by the Supreme Council of justice in Belgium [4], Tax Law Rewrite Project in the UK, the Governments of Australia, New Zealand, South Africa are endorsing the principles of plain language…).
According to Plain Writing Act, plain language is "writing that is clear, concise, well-organized, and follows other best practices appropriate to the subject or field and intended audience".
After having been reluctant to this movement, lawyers and legal experts are adapting their legal writing and drafting to comply with demands.
About design and design thinking
Design and design thinking have been used for many years to create new innovative products and services. It is used in all areas, for all types of businesses and achieves extraordinary outcomes.
Design thinking is a structured methodology based on asking the right questions and working throughout the user's perspective when solving a given problem.
Recently applied to the legal field, this new mindset and tools are transforming the business whether in the creation of new value propositions or in the structuring of law firms to come up with new and creative solutions in line with client's expectations.
About technology
The digital era has transformed the legal profession more accustomed to paper work.
Technology enables the providing of innovative legal services such as smart contracts or automated documents using artificial intelligence or blockchain. Technology can also be a time saving means improving the general organisation and the management of firms.
One of the aspect of legal design is to reflect on the adequate use of technology internally or for client's need by assessing efficiency, intuitiveness and user-friendliness.
For example, when working on complex contracts that affect hundreds of people in an organization and involve interaction between different stakeholders, it will be more efficient to centralize them on a platform that will allow easier communication, secure negotiations and limit the environmental impact.
About complementary expertise
The specificity of legal design is to have a multidisciplinary approach when solving client's problems.
Depending on the project, other fields of expertise can be associated to have a global view and generate more value. It could be IT developers, engineers, anthropologists, psychologists, professors, etc...
LEGAL DESIGN IS A STRUCTURED PROCESS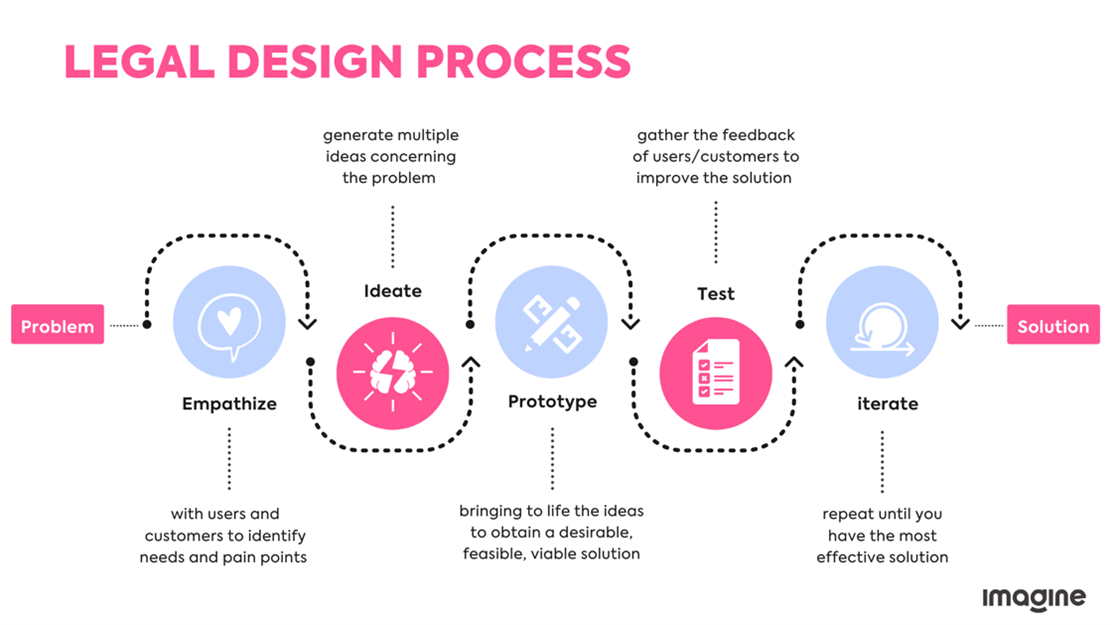 This graphic explains you the whole process.
If you should retain the 3 basic principles, it would be:
- Legal design is an empathy approach: observation is the first step to identify the conscious as well as unconscious needs of users. This exploration process forces to see the problem as the client is actually experiencing it and not to stop at what seems obvious for a legal eye without verifying it;
- Legal design is a pluridisciplinary approach: creating more user-friendly legal products and services through collaboration with different experts (designers, anthropologists, psychologists, developers, etc...) is the key to innovative and global solutions;
- Legal design an experience approach: customer experience influences a purchase decision in 96% of cases [5], so the focus is on improving the legal experience. We need to learn more and look for inspiration from the tools we use every day (IPhone, Amazon, Uber,…) and our own experience of service.
LEGAL DESIGN IS NOT A NICE VISUAL
When we talk about legal design, most people think about the front-end of legal design: Visual design because it is the visible part of the iceberg.
Legal design is more than graphic design.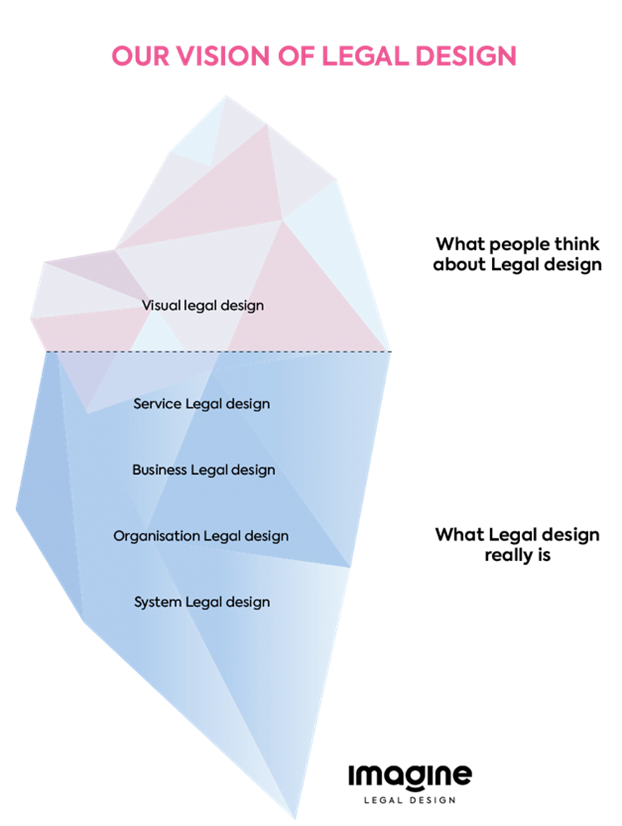 Visual legal design is a way of presenting a legal information or document graphically designed. It is indeed important in terms of psychological impact on concentration and memorization. According to a study by the University of Quebec, we learn 83% by sight [6]. Visual memory is really strong and Visual Design takes it into account.
In this context, legal design allows information to be communicated in a clear, accessible and comprehensible way in order to engage and empower users who were used to dense texts when it comes to legal document.
But again, this is only the visible part of the iceberg.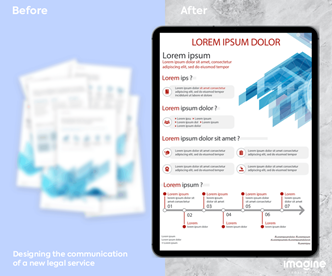 Service legal design is about designing innovative and user-centric legal services. It may involve organization design, visual design or product design in order to propose a suitable and sustainable solution while creating a new value proposition.
It can involve creating tools (app, website, chatbot, Youtube channel or other digital or physical tools…) that will solve user's or client's problem.
Legal design is also a powerful compliance tool for companies. The user-centric approach makes the various programmes and documents more clear, accessible and engaging. Operational staff need legal documents that are easy to use with maximum efficiency. They need to know what is required of them, where and when.
A large part of the projects in companies today concern the compliance with the General Data Protection Regulations (GDPR), which requires to transmit information in a clear, accessible way with clear and simple words [7]. It is an official recognition of plain language at the European level.
The GPDR is the perfect example of collaboration between law, design, IT and data expertise. A legal design approach seems essential when implementing privacy by design or developing any digital solution or service.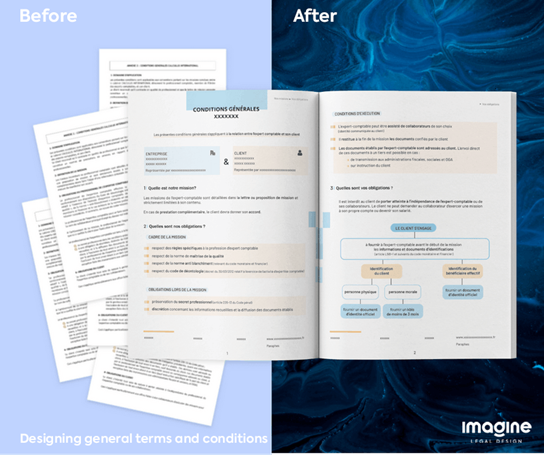 Business legal design is about rethinking one's business model to adapt to new customer needs in terms of transparency and accessibility. The purpose is to find alternative solutions to the traditional billable hour system: fixed fees, flat-fee billing, subscription service.
When it comes to designing business models, the legal design process is a custom made process. It's about finding the right balance between client's expectations and law firm's profitability.
76% of clients want to have a precise idea of the final cost of processing their case. Similarly, 74% of legal consumers would like to know the process in which their case will be integrated [8].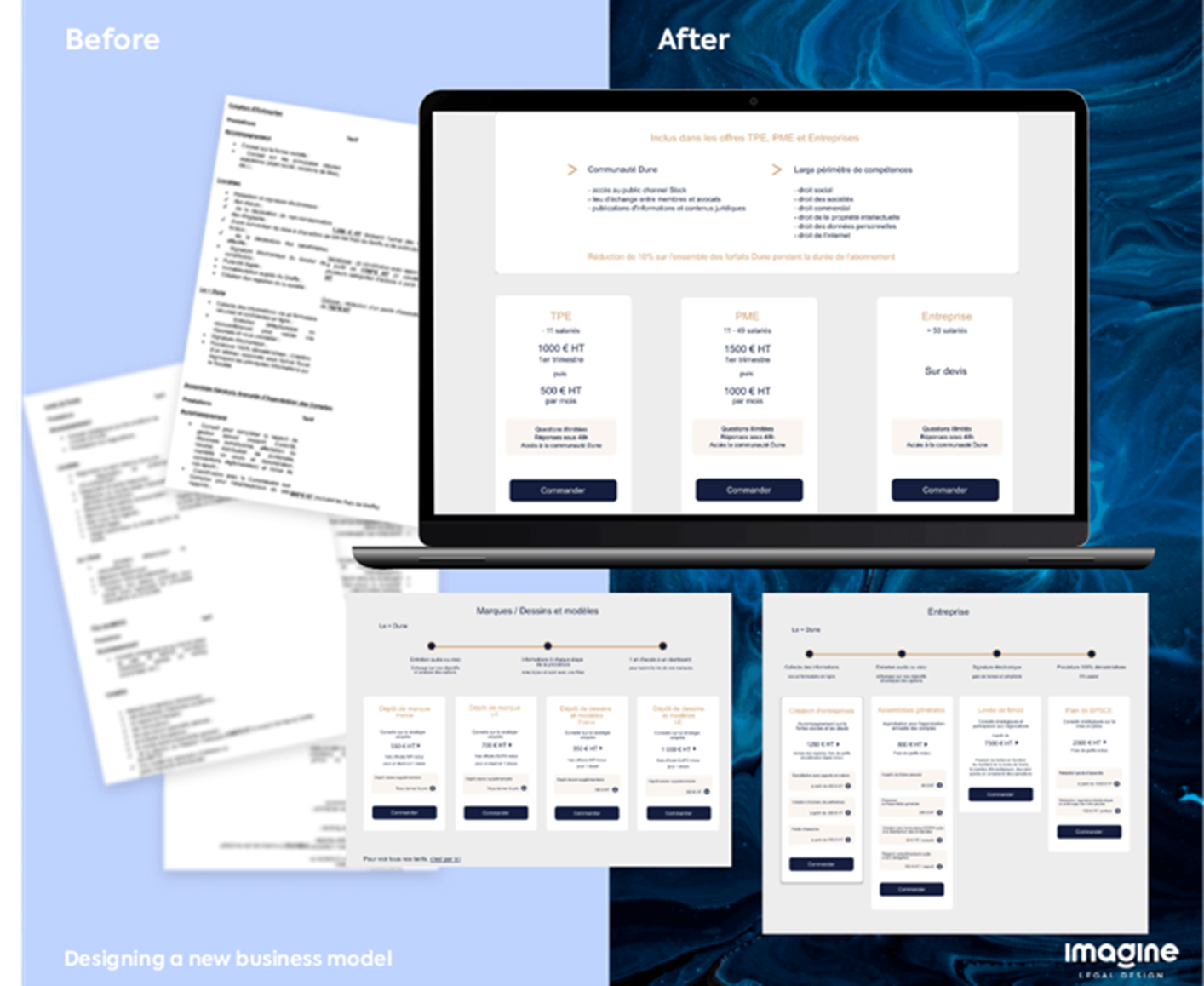 In this project, Imagine worked with a global law firm to rethink their business model and adapt their billing strategy to client's needs in terms of transparency.
Organization legal design is about designing more collaborative, efficient and agile organizational processes.
Collaboration between departments or between employees within the same department can be challenging. The legal department is often seen as the ugly duckling in the company, often consulted as a last resort, making the compliance inefficient. A design approach can tackle this issue implementing interaction with all stakeholders in a clear and understandable way and thus give the law a strategic function.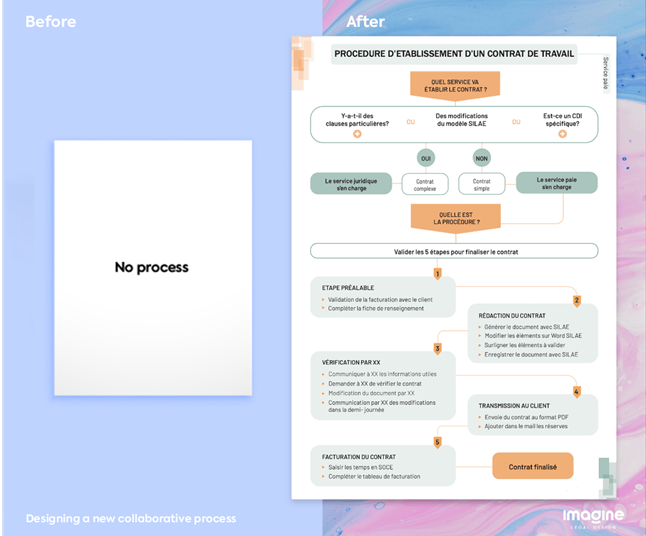 In this project, Imagine worked with an international accounting firm to set up a clear and efficient organizational process between two departments in order to gain in productivity and better respond to client needs but also to have a more collaborative and agile approach internally.
System legal design is the most complex layer, it's about rethinking a public or state service as a whole with a human-centered approach. It would be about new way legislators draft laws, or changing the justice system (online courts) or the legal education system.
LEGAL DESIGN BEST PRACTICES
We notice today several initiatives by legal professionals and organisations around the world who have integrated the legal design approach in order to comply with society's new expectations.
Law firms
Law firms are largely impacted by the transformation of society and especially nowadays within the crisis context. There are also numerous studies that show that clients are largely dissatisfied with lawyers.
"What value do I bring to my client?" has become the question every innovative lawyer is working on.
Some law firms around the world have looked at the issue of transparency of their fees and beyond the predictability of the cost to the client, but this needs to be a global movement in all firms.
On other issues, here are two examples:
- Hogan Lovells: organisation legal design project
This project carried out with IDEO concerned the redesigning of their associate review process.
The problem today in big law firms is that they are all structured in the same way: a pyramidal rigid structure with horizontal relationships and very little room for constructive exchange between partners and associates.
The result is explained in the Fast company [9] article: "Within every four-month period, associates are supposed to actively solicit feedback from three different people they've worked with, including partners, assistants, and peers. Each of these feedback sessions is supposed to take the form of a 10-minute-long conversation, using a card with guided questions to keep the dialogue focused on what the person can do to improve. Once the associate has had all three conversations, he or she has another with a peer to talk through the feedback–almost like you'd do with a friend–help them process it, and think about how to incorporate it into their lives".
- Faegre Bakers Daniels: partners design sprints with clients
As a partner said in The Practice Harvard Review [10]: "Using design thinking has had a huge impact in client relationships. I now have in-house counsel asking, "Would you be willing do a design sprint four our legal department?""
Companies
Every day, in-house counsels produce codes of conduct, charters, internal regulations, compliance programmes. Are these documents read? Are they understood? Are they applied? Do they really protect the company's interests if they are not understood by operational staff?
The answer is no.
Here are few examples of legal design projects concerning privacy policy that demonstrate the legal risk management can evolve:
- Shine [11], an online bank, which integrated inserts after each article with the clause in plain language. They are in an iterative process and know that they are still at the beginning of the transformation process to meet the transparency and ethical criteria demanded by consumers.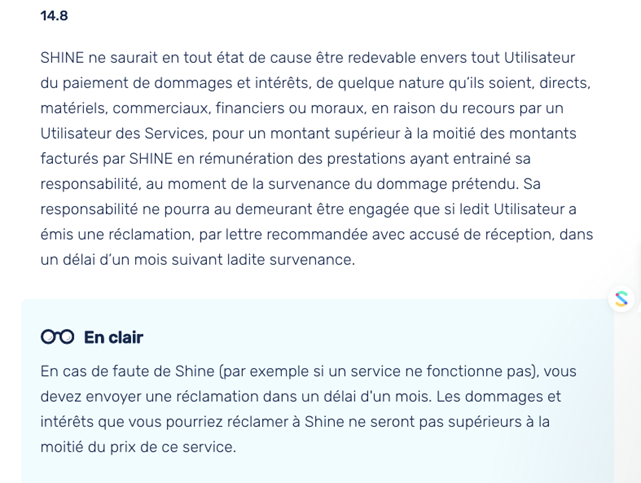 - Juro [12], a contract collaboration platform, completely redesigned their data protection policy on their site, offering an optimal browsing experience and maximising user understanding through different design processes.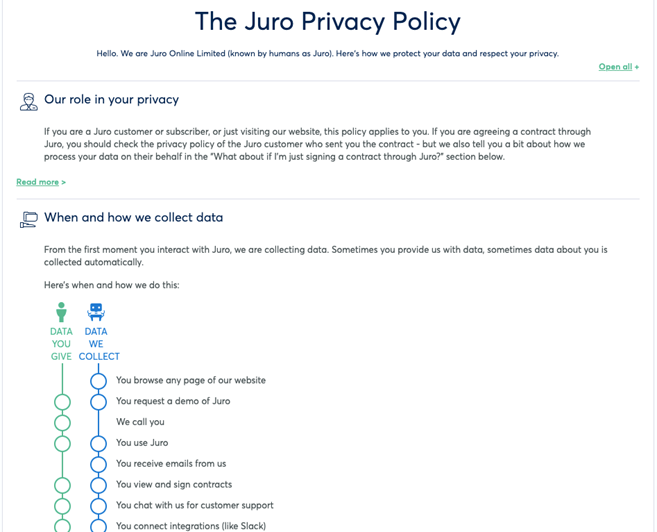 - August [13], a digital marketing agency, this is how their data protection policy starts: "We like to make sure our practices and the information we share with you about how we collect and handle your personal information are transparent and easy to understand. It's why we'd like to step you through the ins and outs of our approach to data privacy, and how it might relate to you. You're about to go on a data privacy adventure with Fernando". They have created a real experience for the user who is immersed in the universe of the sea and discovers with a fish Fernando everything that concerns the processing of its data.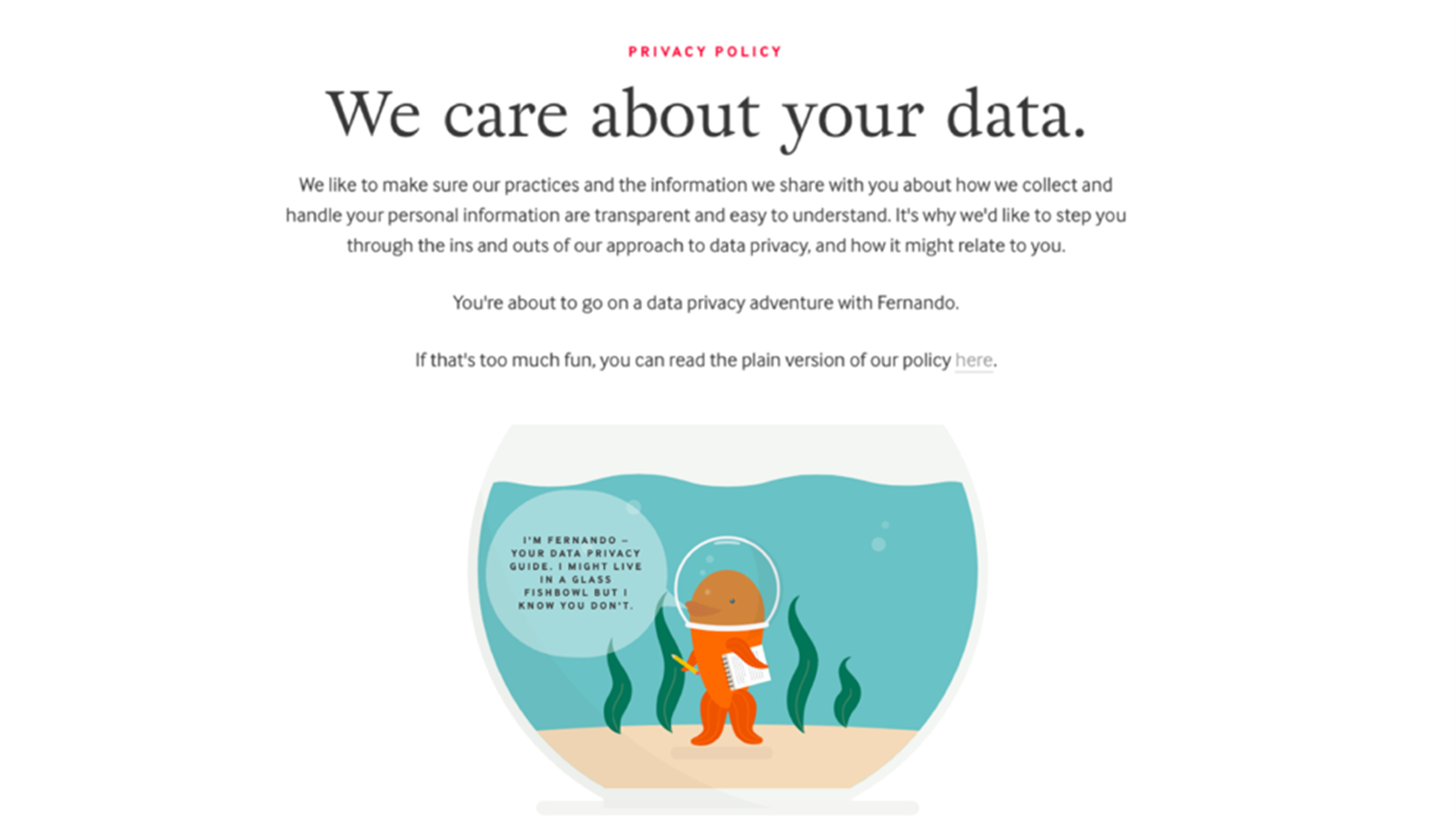 Public sector
In public administrations, transparency and clarity of information is a public service issue. However, we can see that the legislation that appears every day is incomprehensible and unintelligible to a non-lawyer.
We can, however, note certain initiatives by administrations or governments that have made access to the law their priority.
A rather interesting example concerns Netherlands Government [14] about the crisis information transmitted during this pandemic period. The transmission of crisis information is quite delicate because it is necessary to reassure the people who are going to read these communications and who are going to completely disrupt their daily lives. To be reassured, it is essential to understand the new crisis measures and this is what can be seen in these different communications.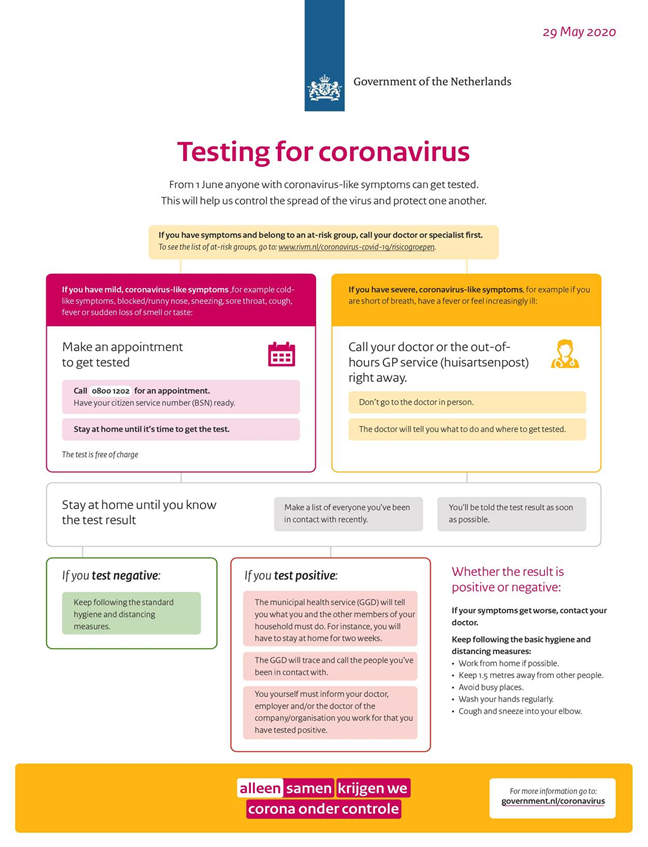 Courts
The Legal design Lab of Stanford has done a tremendous work to make the court experience more user-friendly.
- Wise Messenger [15] created by Legal design Lab Stanford, which sends automated text messages from a court or other legal organization with the goal of improving appearance rates at hearings, appointments, and other important legal events to support them through their legal journey.
- More user-friendly Courts, a lot of people are trying to use the courts without a lawyer, but the courts have been designed for lawyers with complex procedure and intimidating jargon, which means that litigants are completely lost. The Lab has worked on 7 different prototypes and tested them to decide which to continue working on and possibly pilot with the courts.
What concerns justice is not only aimed at litigants, it also includes the judges and the writings transmitted by lawyers in the proceedings. Today, the judge is confronted with various issues: an overload of work, a lack of time in the processing of cases, the complexity of certain procedures.
As a legal professional, you have to ask yourself questions at all times about the interlocutor you are dealing with, his pain points and the environment in which he evolves.
Conclusion
We believe at Imagine, that legal design is the key to build a better legal world:
- where the human is at the center of all considerations,
- where every legal product and service has a value because it arises from a collaboration with the client,
- where the law is understood by all and especially those who apply it on a daily basis
- where all legal experts are happy working in a less stressful manner and rewarded by their client's satisfaction
Legal design is now integrated in some countries in legal education, there is now an international community working together to create a standard, global events are organised in different parts of the world (Finland, Brazil, Portugal, USA, UK, France…). We assume in a few years, it would be the basic skills of every legal professional.