Full webinar: Tips to make a successful legaltech
Abstract
---
The success of legaltech does not depend on technology alone, there has to be a proper business model behind it
The Impact Lawyers has organised the webinar: Tips to make a successful legaltech. This webinar was attended by two representatives of the Colombian Legaltech Association alt+co (Germán Florez and Daniel Acosta), as well as entrepreneurs David Martín, Abdi Shayesteh and Angélica Pimentel; and legaltech expert Theodora Stoica.
Through this webinar, the speakers have solved the following questions:
- The new business model
Technologies alone are not going to generate added value, without a business model adjusted to the adoption and diffusion of them. For this reason, one of the points of discussion will focus on the management vision of what a successful innovation process entails.
Knowing what the current technologies are is not enough. It is necessary to analyse what the current business model is and how it has to change to make way for legaltech.
The work of engineers specialised in technology will be intertwined with the legal knowledge of lawyers, which implies putting into practice new synergies that have never been seen before in the legal sector.
- The qualities of a successful entrepreneur
Legaltech will provide the legal sector with a new innovative mindset. However, the common characteristics of the legal profession may be far from this reality. In other words, legal actors will have to adapt to new changes as a consequence of the digital transformation.
Through this webinar, the speakers will discuss the skills that entrepreneurs generally have and suggest which ones are necessary to make legaltech a reality.
In turn, through the knowledge of those who will speak in this webinar, the challenges that entrepreneurs have to face in a sector that is in constant mutation will be shown.
- Global markets
During the webinar, the speakers highlighted the importance of developing markets, especially Latin American ones, in the process of legal innovation in the world. Innovation can generally be perceived as a process where developed countries create and then introduce novelties to emerging countries.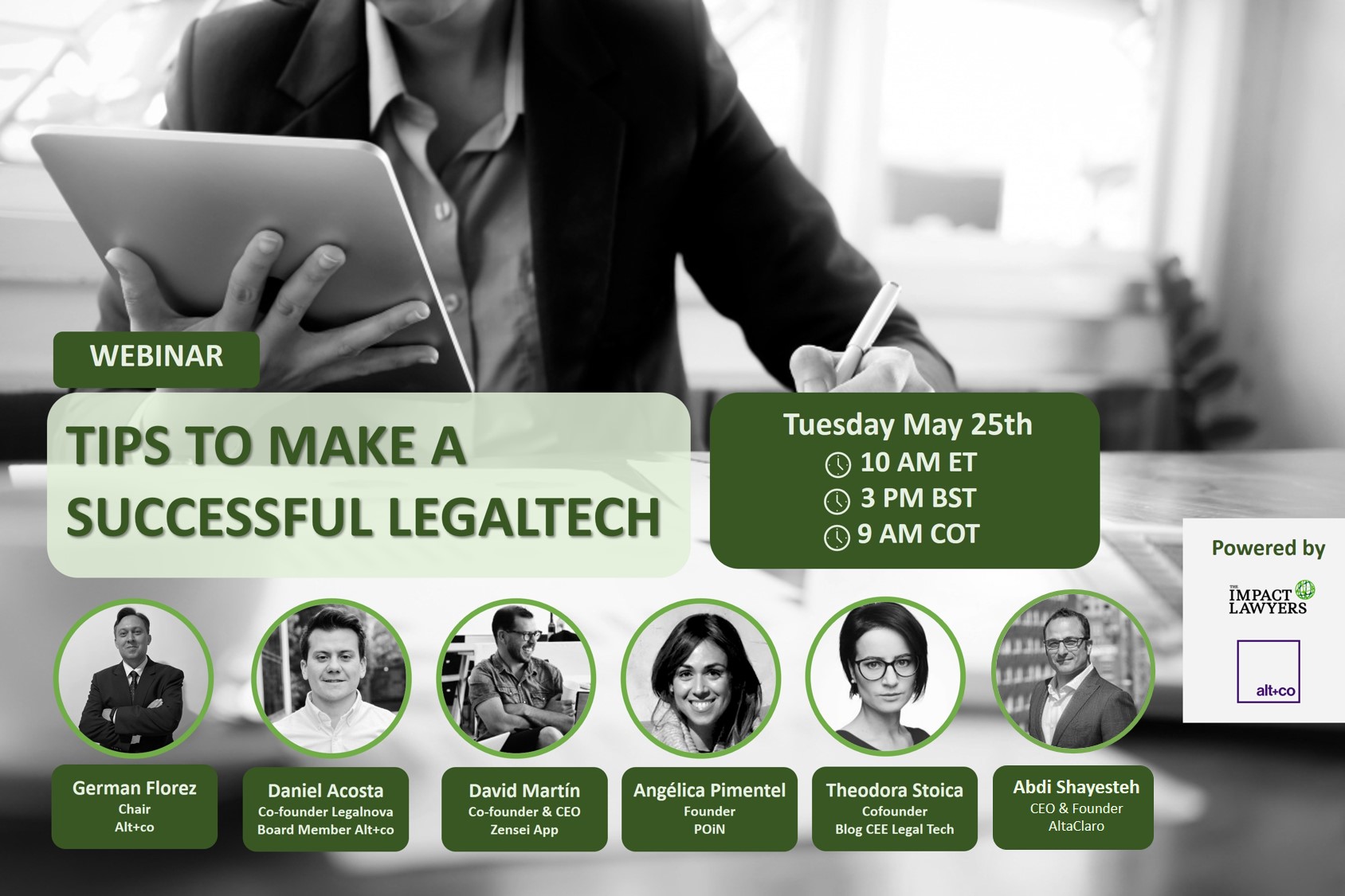 Subscribe to read the full article
Check out our yearly subscription and practical guide subscription options.
Enjoy 1 year access for 270.00$

Get full access to The Impact Lawyers for 1 year, viewing all articles and downloads available on our website
Subscription