4 Ways Lawyers Can Become Leaders in the Digital Age
---
Lawyers want to become leaders. But few know how to do it in the new digital age
Becoming a leader in the legal profession has been a challenge for decades. The big firms have grown in size and the small firms continue to grow in quantity so it is more difficult than ever to stand out as a lawyer.
If you are looking to grow, stand out or future proof your business for the decades to come here are 4 ways lawyers can become leaders in the digital age.
A New Strategy
For most lawyers, strategy goes as far as the business plan. In my experience this doesn't solve your problem or help you grow, because it lacks purpose.
We can all hope for the best and plan for the worst on a spreadsheet or through accounting software but it's not compelling to the people in the business or the human brain.
It's time to ask 'What's the point?'
All successful businesses have a long-term strategy defined by 3 things; purpose, vision and mission and it's how lawyers become leaders.
Purpose
The big reason for your existence, beyond making money. It doesn't seem important at first but in order to have people care about what you are working towards you have to be able to articulate who benefits outside of the transaction.
When someone instructs you as their lawyer, apart from you and your client who else benefits?
If you are finding it hard to answer that question, a good place to search is the UN Global Sustainability Goals and choose one of the 17 goals that closely matches a cause that is connected to you or your business.
Your purpose should be broad and focussed on a wider cause or problem and is unlikely to change.
Vision
Your vision should be almost unreachable. A 'north star' that inspires you and your people to pull together and work towards a common goal.
A good way to think of this for some people is to think of a newspaper headline. Imagine in 10, 20, 30 years in the future you reached a defining moment in your practice or the legal profession, worthy of front page national or even international news.
What does your headline say? What image is showing? What goal has been reached? What cause or problem has been solved?
Like law, your vision should be big and should rarely change.
Mission
Your mission is a goal that is SMART: Specific, Measurable, Attainable, Relevant and Time-Bound.
Your mission is not a statement that gets put on the wall as a broad statement of intent. It should help you and your people to come to work everyday with a set of tasks that propel the business towards its vision.
If you want to bring justice to 100,000 families in poverty by 2050, your mission should be to serve 3 people per day through your products and services.
Not only does it bring a realistic perspective to your goals but helps you track them in a sustainable way and helps your people stay motivated or incentivised to get a result through their work.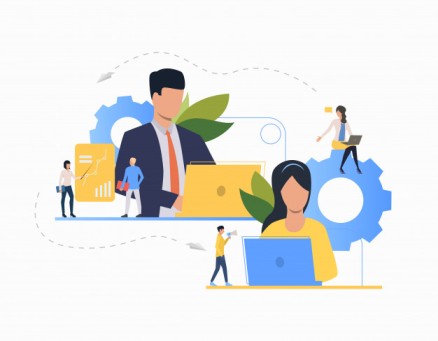 Source: Freepik
Crafting The Perfect Message
Globally, leaders in the legal profession waste millions of dollars on marketing every single day for great services like yours that help the people who need it most.
Money is wasted because most lawyers don't know how to communicate their value in a clear and compelling way so your competitors gain more market share by selling inferior services.
This doesn't just count for paid advertising or print. We are talking about every phone call, meeting or networking event you attend. If you can't clearly articulate your value, you'll lose to someone else that can articulate theirs.
One of the simplest things you can do to immediately improve your messaging is to look at your website and change any 'I' or 'we' sentences to 'you' or 'your' sentences. This shifts the subconscious of your visitors from seeing you talking about yourself to you solving their problem.
For example, a lawyers website might say something like: "We have a team of experienced commercial lawyers that provide a combination of legal expertise and pragmatic commercial awareness."
A leaders website would say: "Stress-free protection for your business and your family".
It might be tempting to tell the visitor why you should be the one they choose to hire. The problem is that they just don't care about that because they want to know what's in it for them.
Walking Your Talk
One of the most valuable lessons you will inevitably learn in business is that your reputation takes a lifetime to build but can be broken instantly.
How you behave as a lawyer or legal firm in parallel to your messaging as explained above is critical for moving from lawyer to leader in the digital age.
Your messaging is a great way to tell the story of how you can guide your clients to become heroes of their own story, but with this you can also craft key phrases, hooks and mottos you may use throughout your brand.
Review these and make sure you are reinforcing these in your behaviours as a brand.
The best way to 'walk your talk' is to map out the journey your customer goes through to buy from you noting the emotions and actions they are feeling and taking along the way.
This will also allow you to see and experience the journey for yourself and use it to predict where the leads and sales are coming from in your business as it will be much easier to track.
Making a Visual Connection
Your visual brand; logo, colours, images, fonts etc. are usually the first thing your clients encounter when they find you so they should connect with your target market.
So why is this last on the list of the 4 ways lawyers can become leaders in the digital age?
Something this important should not be taken lightly and should be the last thing you do during a branding process.
Knowing your strategy, crafting your message and utilising your brand behaviours should be the first things you do when you are thinking of growing your firms' brand. Then finding a reputable company to use this to create a visual brand identity that connects with your target market is a foolproof way to build your business.
We say that your success Is dependent on you, your people and your clients' confidence in your brand and when we can align all 4 parts of your brand we call it Brand Confidence® and is the best way to build a profitable and fulfilling brand, by design.
But first what gets measured gets improved and you can claim your Free Brand Audit here