The Future of Legal Workplace Design: Recreating the Resilient Law Firm
Even before the global pandemic, law firms began questioning the design of their office environments. Over the years, open concept has grown in popularity, and assigned private offices are less common than they used to be. Filing cabinets are being replaced by the cloud and reviewing contracts almost doesn't call for a human at all anymore. The practice of law is centered on individualized work, privacy and confidentiality, and long hours, but with a new generation of attorneys entering the workforce and various external factors creeping their way into the legal workplace culture, how will the future office look and function?
The future of law firm design is about enabling the inevitable changes our society is faced with, making work-life more seamless for attorneys, finding creative solutions to occupancy issues, and designing with employee well-being at the forefront of it all.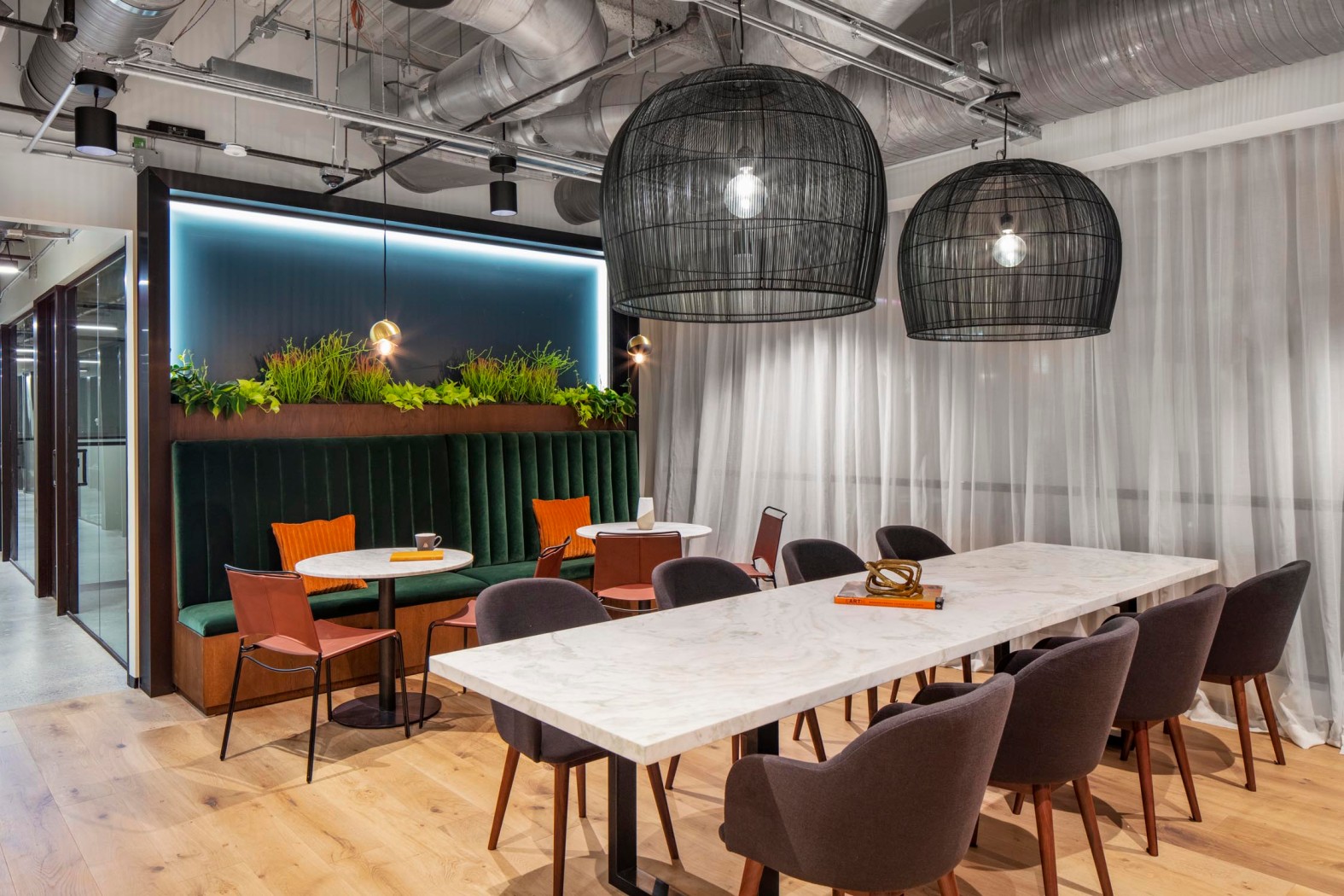 Source: Fine Focus Photography
Enabling the inevitable
Many factors in the legal workplace have come into sharp focus thanks to the COVID-19 pandemic. Ubiquitous stay-at-home orders have compelled law firms to adjust rapidly to maintain business continuity. Staff and attorneys at all levels, are learning how to remain productive, nurture strong client relationships, and generate revenue with just a WiFi connection and the reliable technology their employers have armed them with. With the likelihood that working from home will continue to be a popular option, for at least a few days a week, the legal office must evolve to support the continuing, and now necessary, mobility of the workforce.
When reimagining the future law office, the single most inevitable piece to the puzzle will be technology. Many firms are starting completely remote offices as part of their offering, so it will be imperative that the physical workplace can accommodate visiting attorneys, so they have a place to drop in if they need to.
There will still be universal-sized offices spread throughout, along with some workstations, but they will be unassigned and set up through a digital resource, where staff can check out spaces as they need them using their own mobile devices for a collaborative day with their team or a scheduled deposition.
With IWMS systems like iOffice, staff can reserve rooms, check availability of workstations, offices, and collaboration spaces, view a list of technology provided in each room along with instructions, request maintenance, and order supplies. They can even be notified when mail has arrived, pay their parking meters, adjust the temperature and lighting of a room, and more.
This is why it's so important for employers and IT departments to engage designers early on in the process to understand what they are using now, what they want for the future, and how they plan to utilize the technology within each room type. This allows the spaces to be built around the technology rather than trying to fit technology within the completed design.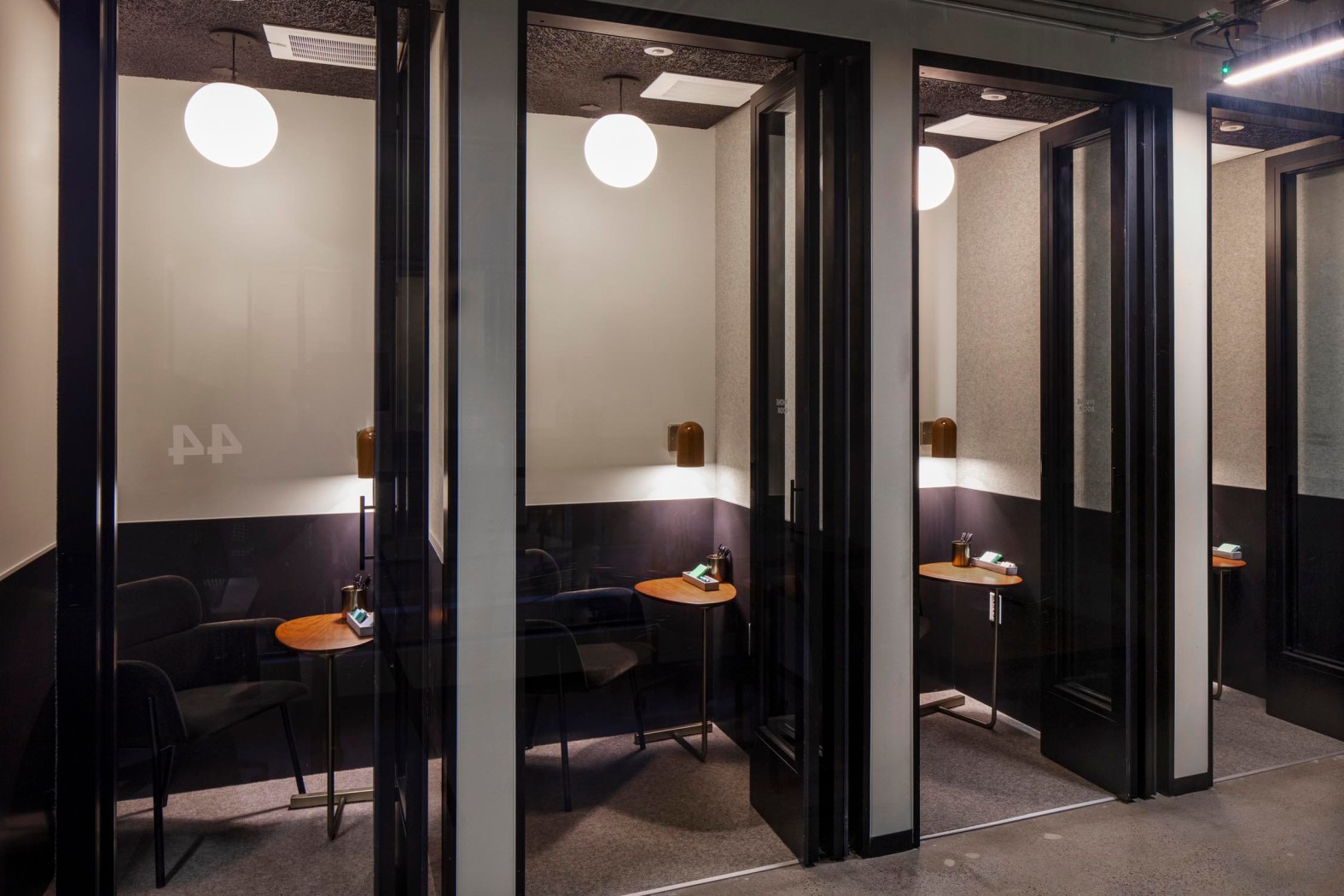 Source: Fine Focus Photography
Work-life uninterrupted
With unlimited access to technology, it is difficult for those in every profession to balance work with their personal lives, especially lawyers. It also means attorneys can work in a more mobile fashion.
Now that law firms are realizing their employees can effectively work from home, the role of the office will shift from a Monday through Friday necessity, to a connective hub seen more as a destination. This means attorneys won't need to come into the office every day to accomplish simple to-dos but will instead use the physical office more like a co-working space meant for bringing people together around specific tasks.
Think of it more like a building's amenity floor or an airport club. Visualize conference rooms of various sizes with the best intuitive technology, an entertainment space with a coffee bar, wet bar, and a variety of seating options. There will be IT help desks that resemble Apple's Genius Bar and amenities for personal and professional use, like production rooms built out with the proper acoustics and green screen technology to be able to record podcasts, webinars, and more.
Having spaces that can flex to work for a multitude of different uses such as happy hours, formal and informal gatherings, and internal all-hands meetings will become even more important. These spaces will draw employees and visitors into the office specifically for human connection and allow them to be able to continue working remotely when they need their all-important focused time, leading to a better work-life balance overall.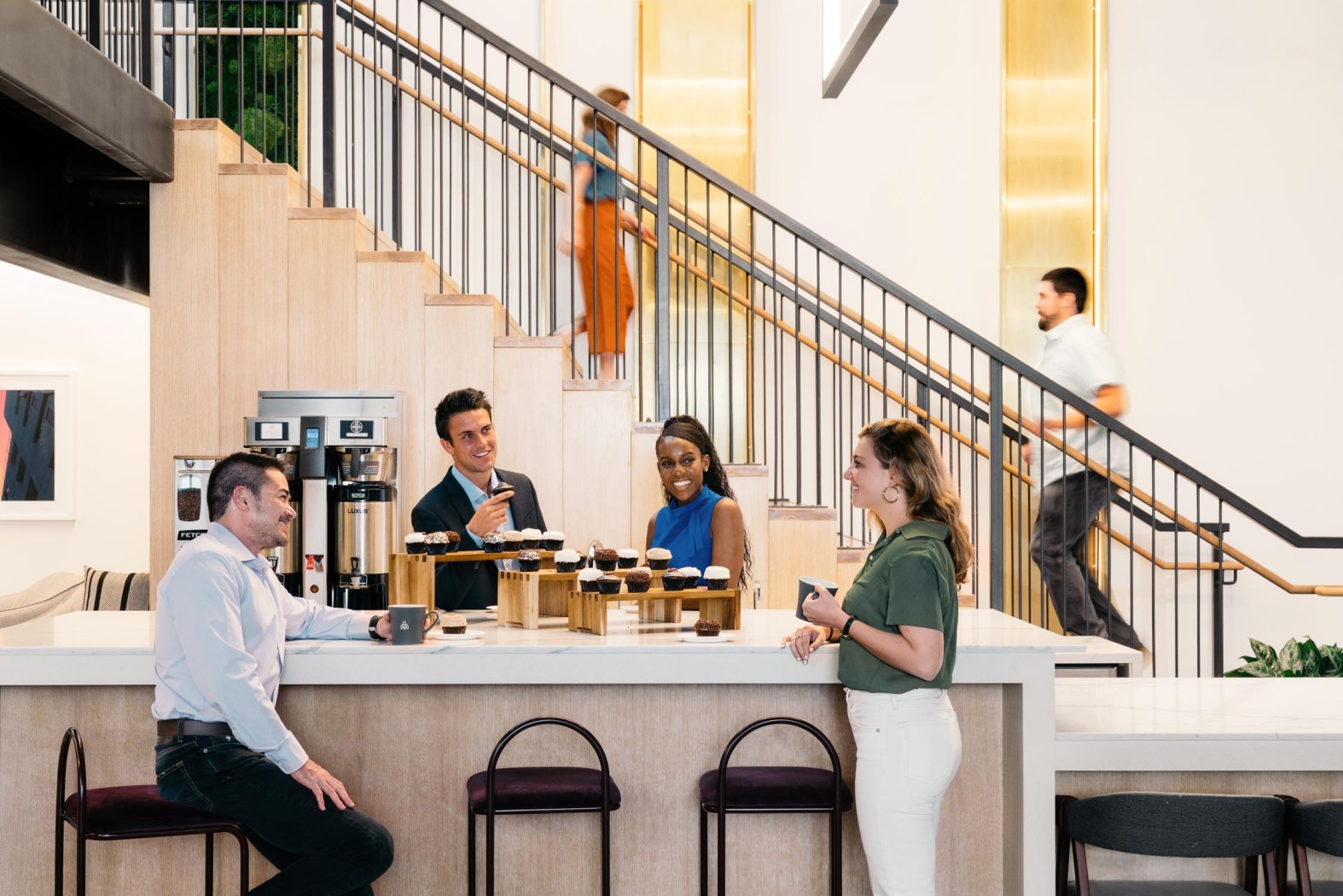 Source: Julia Robbs Photography
Creative approaches to occupancy
Companies, especially law firms, are still going to look to cut costs and real estate may be part of that. In the past, this meant less square footage but the same number of people. This led to firms moving to universal offices sizes, putting attorneys in interior offices and having some associates share, which can lead to privacy and confidentiality concerns.
In the future, less square footage is still a reality, but rather than putting the same number of people into a smaller space, the workplaces will be outfit with the proper ratio of offices, workstations, and support spaces to meet each firm's needs. It may mean having four attorneys for every one office, but with most of the future workforce not looking to be in the office every day, everyone will still have access to a private place to work when they do come in. Less square footage in the future looks a lot like an amenity rather than a requirement.
Critical need for human centric focus
Current research shows the thing employees miss the most about being in the office is the connection with colleagues. As social creatures, we're meant to be around others, which means the physical office will never go away, it may just change its purpose given the current climate. This is all the more reason to design with flexibility in mind, to allow companies the ability to be more agile in the future, no matter what comes their way.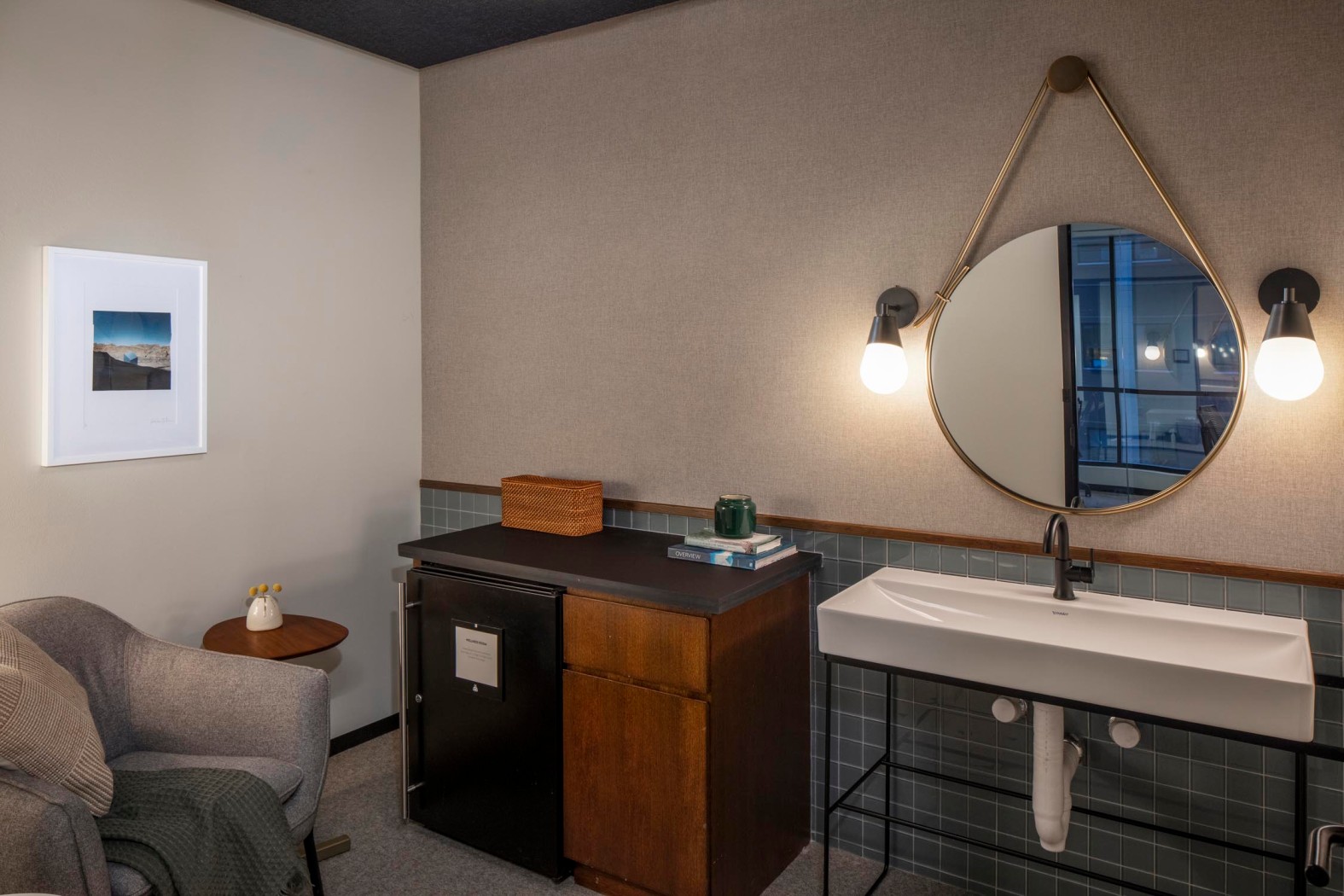 Source: Fine Focus Photography
Coming out of the work-from-home experience, it will be important that the office provides a sense of comfort and security. This doesn't just mean physical comfort, but emotional comfort as well. Employers will need to consider the levels of distraction within the space and how different people learn best, whether it's through writing, visuals, or audio cues. There will need to be spaces that both help energize and calm, and where employees can work to the best of their ability on any given task. Everyone works differently, and levels of productivity and success are often affected by surroundings. Designing spaces that cater to all types of learning abilities, physical abilities, emotional states, and task types is going to be imperative for employees and in result, their companies, to remain strong and resilient.
The only way to successfully accomplish this is to connect designers with those that will inhabit a space. Having meaningful conversations with staff and attorneys helps form a holistic picture of how to create a space that will serve their needs and improve the company's position in the marketplace.
If there is one thing to take away from the current global unrest and bring into workplace designs, it's that employees are more than just a number. Looking beyond the program numbers and getting to the root of the company's people and its culture will lead to success.