Legal intelligence: how is it improving the legal function?
---
The exponential growth of technological developments is yielding an outstanding increase in the amount of Electronic Information that can be stored.
As it is said in the article "Data-Driven Companies needs lawyers in the IT Governance" the above-mentioned factor, along with other facts such as the current need of punctual, accurate, transparent, integrated and secure information, are creating a new series of challenges to the Organisations that might be summarized through the Generally Accepted Recordkeeping Principles (GARP) by ARMA INTERNATIONAL: Accountability, Transparency, Integrity, Protection, Compliance, Availability, Retention and Disposition.
In this sense, as the different IT reference models show, the Legal Function is expected to be part of a solution framework shared with other areas. A good example of it, it is the Information Governance Reference Model (IGRM) by EDRM that it is showed next: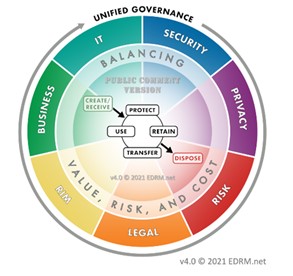 Within an IT frame duly integrated and aligned with the organisation´s areas, functions, culture and goals, Intelligence Cycle and e-Discovery represent powerful standards and tools that can be very effective and efficient when dealing with Information Electronically Stored (ESI).
To explain the methodology, it can be used the following diagram called "Electronic Discovery Reference Model" developed by EDRM, where all the stages to optimally treat ESI are detailly exposed.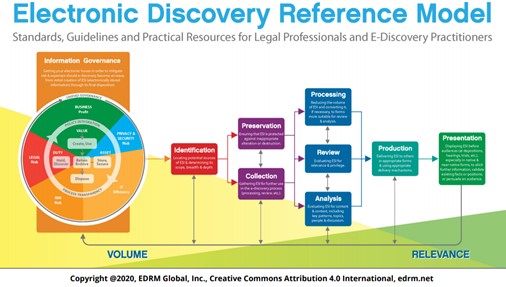 These standards might be applied to multiple different use cases within the scope of legal function, improving and optimizing the delivery of these services. Currently, the most common areas of practice are:
• Early case assessment regarding Lawsuits or Arbitration.
• Internal or external audits.
• Internal or regulatory investigations.
• Due diligence processes.
• Public record requests.
• Privacy and security risk reduction.
• Jurimetrics Analysis.
• Issues management regarding institutional and reputational risks.
Furthermore, the state of the art of this technology is endorsed by Reference Consultancy Corporations such as Gartner, which in its report "Hype Cycle for Legal and Compliance Technologies, 2020" predicts that E-Discovery Software will reach the Plateau of Productivity within the next 2 to 5 years.
The same direction is being taken by the market. In fact, some relevant surveys such as the one conducted by Research and Markets, point out that the expected growth forecast for this niche will rise a 6.6% in the period from 2020 to 2025. That means that the size of the market will grow from an estimate figure of USD 9.3 billion to USD 12.9 billion in a period of 5 years.
Nonetheless, according to Gartner in its "Market Guide for E-Discovery Solutions" publish on the 7th April 2021, regional markets show a remarkable imbalance, being North America the holder of 79.15% share of the total solution deployments. The low level of adoption among the rest of the regions leaves a landscape plenty of opportunities for new projects that help to mature and evolve the Legal Function.
As a result of the analysis of the previous circumstances and data, it can be concluded that intelligence cycle and E-Discovery solutions applied to Legal Services are in a high mature stage, enough to trust and deploy projects pursuing to increase information value and efficiency and mitigate its management risk.