FrontFoot law: how to launch a law firm during the Pandemic
---
David Curtain explains how he managed to launch FrontFoot, a new law firm, in the midst of a pandemic
What is the purpose of FrontFoot Law?
Our mission is to identify and implement the legal operations and technology improvements best suited to our clients' specific circumstances.
What differentiates FrontFoot Law from other law firms?
A key differentiator is our pure focus on legal operations and technology. Another is the breadth of our experience in this space, which includes working in law firms, in-house legal teams, regulatory compliance teams and specialist legal operations and technology practices. This puts us in a very strong position to find the right solution for each client based on their specific needs and circumstances. Lastly we provide advice and support in a way which is flexible and configured to client needs (e.g. making specialist resources available as needed).
Has it been easy to create a new project nowadays, considering that the pandemic has not yet fully stabilised? What difficulties have you faced?
I have definitely asked myself whether it was a good idea to launch a new practice in the middle of a pandemic! But legal operations and technology have never been more important. There was already a strong need to help lawyers deal with expanding responsibilities, resource constraints and the ever-increasing pace and complexity of business. Challenges associated with the pandemic, particularly remote work, have increased these needs.
The pandemic has also increased awareness of the importance of wellbeing and keeping working environments as healthy as possible. A key element of legal operations is to prioritise higher impact activities and find more efficient ways to manage lower complexity work. It also involves bringing previously disparate parts of an organisation into better strategic and operational alignment. This improves:
1. the wellbeing of lawyers, their clients and others impacted such as B2B relationships and customers; and
2. the overall effectiveness and profitability of the organisation.
What do clients currently demand from law firms?
Having been both the in-house client, the firm lawyer and now an adviser to both, in my experience clients want:
1. Innovative solutions that add significant value to client organisations and improve how legal work is done (e.g. measurable improvements to the cost/quality/timeliness of legal work)
2. Lawyers who understand their clients' fast-paced, multi-faceted working lives and provide advice suited to those specific circumstances.
3. Flexible support to help clients who lack necessary skills, bandwidth or headcount to manage a project or other activity.
4. Clients want access to the right skills for the job at an appropriate price. Sometimes they need a senior partner to be more hands on, other times they need someone like a paralegal to deal with lower complexity work.
5. Healthy relationships with lawyers who meet the above requirements, are good communicators and are great to work with.
With the new digital era, what obstacles do you think law firms are facing?
Within the firm environment one of the main areas of challenge (and opportunity) is knowledge management. With so much valuable information housed within the lawyers' heads and various repositories it becomes a monumental task to identify, capture and use this information to its full potential. Often lawyers experience challenges sharing information across their firm, including obstacles to break down silos between practice groups. It's not unusual for high performing lawyers to 'do their own thing' in a way that doesn't make this intellectual property available to others within their firm. This represents a significant lost opportunity to enable others in the firm to leverage this knowledge or to properly exploit this intellectual property for the greater benefit of firms and their clients.
Change management is another significant obstacle. Law firms often face challenges coordinating initiatives across different practice groups, and lawyers are (generally speaking) resistant to change. Lawyers usually ask- quite rightly - why they should change their behaviour when new suggestions are put forward. If the answer to that question is not clear, then the innovation initiative has fallen at the first hurdle. Effective change management is essential to ensure that new technology achieves the intended benefits instead of failing or creating new, sometimes bigger, problems.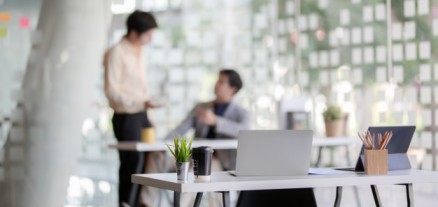 Source: Freepik
How important is technology in a law firm?
Technology is essential to enable lawyers to communicate with their clients and do their work, particularly in the age of remote work. Of course technology has progressed far beyond these core requirements to enable an ever growing set of capabilities including software to manage legal practices, documents, knowledge, workflows and billing. Some of these tools are fantastic additions to working life. Others unfortunately are either solutions looking for a problem to solve or are just not a good fit for their intended use case.
The importance of a given technology and the amount of value it adds to a law firm depends on the alignment between that technology, the problem to be solved, the specific people involved and the specific circumstances where it's deployed. What's critically important for one firm may not be appropriate for another.
It's vital to define and prioritise the problem to be solved rather than rushing into 'solutions mode'. Asking the right questions and carefully considering the various factors at play in any given scenario will materially increase the prospects of solving the right problems and taking those involved 'on the journey'. Done correctly, this helps develop a suitable roadmap for continuous improvement of the working environment of those involved and the firm's overall profitability.
What do you think a legal project needs to gain visibility today?
Starting with being very clear on the identity and sequence of the problems to be solved goes a long way to overcoming issues with visibility or support. It's a critical step many people skip. This is understandable - as lawyers we're expected (by others and ourselves) to come up with answers very quickly. It's important to resist the urge to jump to a conclusion.
Managing the project in the right way will significantly enhance support and prospects of achieving the intended benefits. This includes properly identifying, documenting and managing key elements such as:
1. The key reasons for doing the project
2. Project accountabilities including ownership and decision making approvals
3. Project scope, timing and budget
4. Project methodology (agile, waterfall, etc)
5. Project management plan (suited to the specific project)
6. Resources required to deliver the project (internal/external)
7. Project reporting, milestones and decision points
8. Risk management
9. Change management (including communications, initial and ongoing support)
10. Other impacts e.g. policies, systems, integrations, processes etc