The Law behind wind energy in Spain (i), an overview
This is the first of a series of three articles covering different legal aspects of wind energy in Spain. The present piece will provide a general overview of the wind energy market in Spain and its potential development, as well as an introduction to its regulatory framework and the contractual agreements used in this sector. The second article will describe in detail the applicable legal framework and the main norms affecting the development of wind energy projects in Spain. And, finally, the third and last article will cover the main contracts used in the wind energy market, with particular attention to EPC contract or Engineering, Procurement and Construction Contract, given its fundamental importance for wind energy projects.
Renewable Energies after the Covid Pandemic
The impact of coronavirus has struck our global economy causing an unprecedented shock in most business sectors, from tourism to manufacturing. Despite the efforts of central banks and governments to stimulate the economy, the disruption caused by COVID-19 has led to one of the sharpest contractions in recent economic history. Likewise, decreasing asset prices and rapidly increasing unemployment levels seem to be driving us to a new -and deep- economic recession.
Energy markets are not immune to this discouraging environment. The International Energy Agency estimates that April's dive in consumption and trade levels caused a 25% decline in energy demand within countries in full lockdown, and a decrease of 2.5% in global electricity demand in the first quarter. Similarly, oil demand plummeted to record lows amid the substantial reduction of transport and poor mid-term forecasts for economic activity.
However, it is in this context that analysts anticipate big opportunities in the renewable energies sector. Accelerating investment in clean energies could act as an effective economic stimulus contributing to the –much needed– kickstarting of economic activity after the major slump caused by COVID-19 while contributing to cut carbon emissions and create new jobs. The question then is whether governments and political leaders will identify this pivotal moment for renewables.
Within the EU, this question has been answered with the launch of "The European Green Deal", an ambitious recovery package meant to speed up the transition to a low carbon economy. This new public policy intends to provide the necessary funding and legal certainty, increasing the confidence of investors in the promising field of renewable energies. Some of its objectives are better integration of renewable energy sources to the grid, promotion of innovative technologies, and the development of Europe's offshore wind energy.
Wind Energy in Spain
With more than 25,700 MW Spain is the second European country in terms of installed wind power. Wind energy represents approximately 21% of the electricity consumed the past year and it is the first source of renewable energies in the country, as the following graph shows: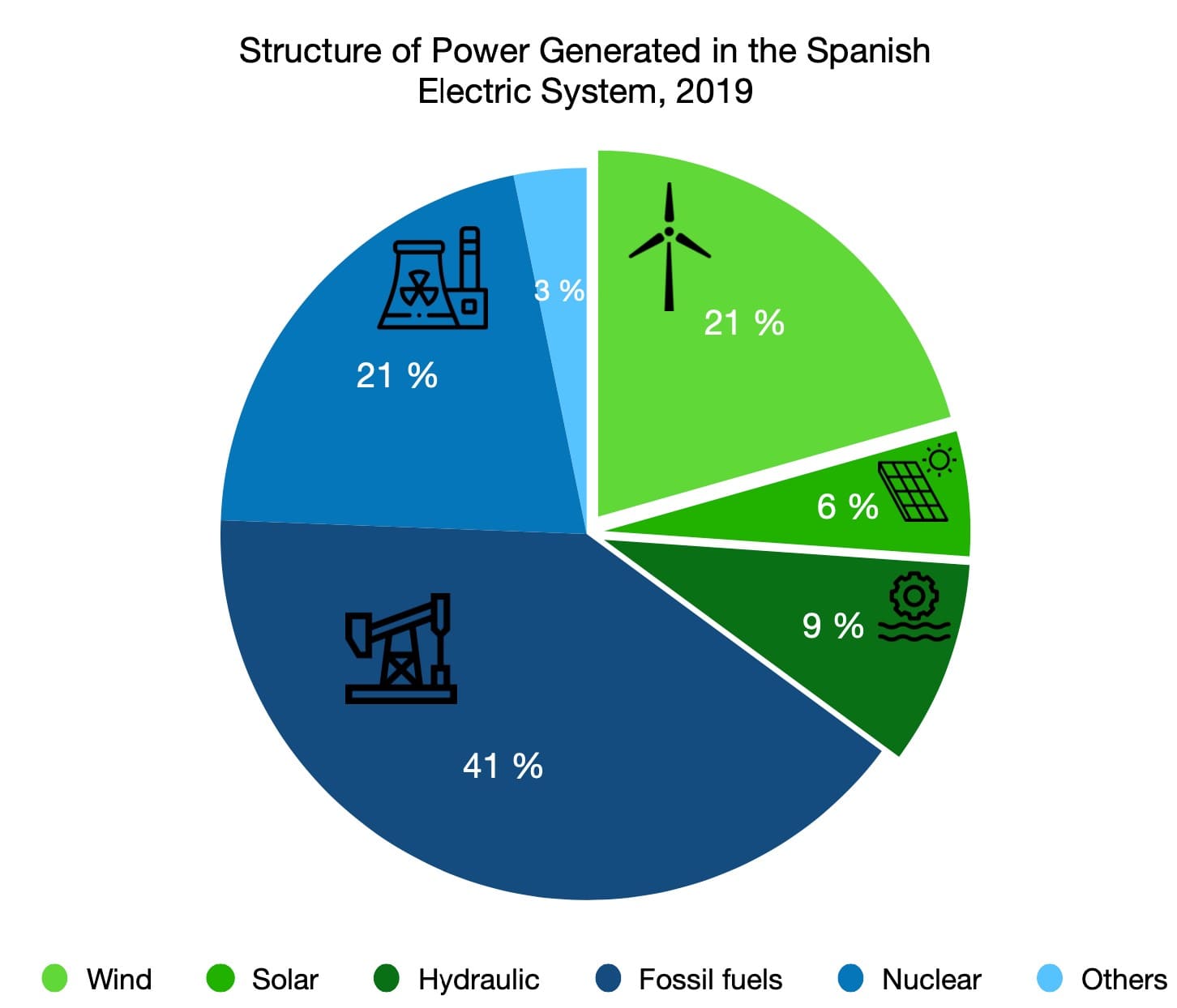 Source: REE
Likewise, economic indicators of wind energy in Spain are astonishing. According to AEE, the Spanish Wind Energy Association, this industry employs 24,000 people, exports technology worth 2.1 billion euros and contributes 3.5 billion to the GDP. These figures show that the wind energy market has a multifaceted significance for the Spanish economy, from employment to R&D.
Moreover, as it is the case for every mature market, wind energy requires certainty, flexibility, and stability for its proper development. Consequently, law plays a key role in this sector since it is the main tool at the disposal of governments and businesses to guarantee all of the elements above. However, the question is 'how does the law carry out such a demanding mission?'
The Law Behind Wind Energy Projects
Law typically performs two major tasks concerning structuring business activity. On the one hand, laws and regulations are promulgated by different political and administrative entities to regulate markets and economic activity. On the other hand, market actors and other stakeholders regulate their activity in accordance with those laws and regulations through private instruments, that is, contracts.
As the energy market is heavily regulated, public law dominates the legal framework applicable to -basically- every aspect of renewables, from energy generation, transportation and distribution, to its commercialization and supply. In particular, the main legal instruments affecting renewable energies are Royal Decree-Law 9/2013, July 12, adopting urgent measures to guarantee the financial stability of the electricity sector and Law 24/2013, December 26, on the Electricity Sector.
Likewise, there are specific instruments targeting renewable energies, such as Royal Decree 413/2014, June 6, regulating electricity generation from renewable energy sources and Ministerial Orders IET/1045/2014 and IET/1459/2014, of June 16 and August 1 respectively, approving the retribution system of renewable energy facilities generating electricity, among others.
The second article of this series of three will develop in detail the legal and regulatory environment of wind energy projects in Spain.
Contracts and main actors
As has been described above, wind energy is a highly regulated market with an increasing economic significance in Spain. Additionally, given the substantial technical complexity of wind energy projects, there is a high diversity of different actors involved in their execution and maintenance, from developers and contractors to landowners and the grid operator.
Therefore, to streamline the obligations of each one of these actors along the life span of wind energy projects (20-30 years avg.), parties enter into contractual agreements covering each one of the key aspects of wind energy projects, namely, their development, construction, financing, operation, and maintenance.
Thus, the third and last article of this series will describe the main legal agreements used in wind energy projects, particularly focusing on EPC contracts (engineering, procurement, and construction contracts), given their key importance in the development of renewable energy projects.