Malaysian Oil & Gas – Role of PETRONAS
---
In 1910, Malaysia had first discovered its first oil well on top of Canada Hill in Miri, Sarawak
The discovery was done by Shell and in 1914, Shell had constructed Malaysia's first oil refinery. In 1974, a national oil and gas company namely Petroliam Nasional Berhad ("PETRONAS") was formed to undertake the exploration and production of the oil and gas in Malaysia. The Petroleum Development Act 1974 ("the Act"), conferred on PETRONAS the entire ownership, exclusive rights, powers, liberties and privileges of exploring, exploiting, petroleum resources whether onshore or offshore.
PETRONAS holds the right to issue licence to oil and gas companies to conduct upstream activities of exploration, development, and production of oil and gas in the country.
The companies operate under the terms of Production Sharing Agreements ("PSA") or Production Sharing Contracts ("PSC") and Joint Operating Agreements ("JOA") with Petronas Carigali Sdn Bhd ("PCSB"), a wholly owned subsidiary of PETRONAS, in the development of Malaysia's Petroleum Blocks, across the entire upstream value chain.
These contracts create contractual relationships between PETRONAS and the oil exploration and prospecting companies (contractors). The contractors are authorised to develop new oil and gas fields in a defined area and for a defined period regarding the percentage of oil and gas production that will be received by each party after the parties have recovered a specific amount of costs and expenses.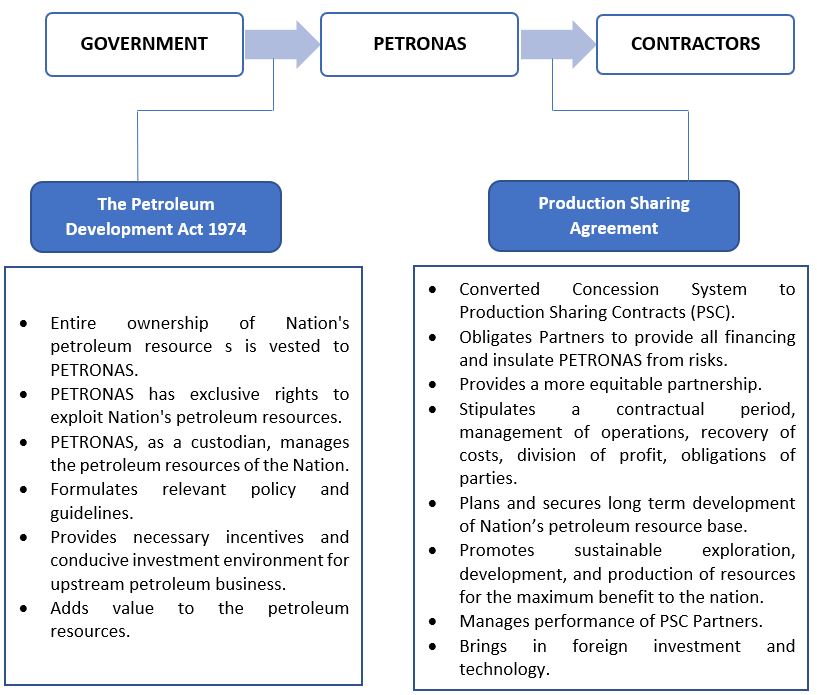 The PSC is a contract which governs the activities in any oil and gas upstream activities in Malaysia. It sets out the terms, conditions, rights and responsibilities of the parties involved. A typical PSC specifies, among others, the scope and duration of contract, fiscal terms, map of contract area, minimum work commitments and minimum financial commitments, participating interests of the contractors, conduct of management of operations, requirements for work programming and budgeting, methods of segregation and valuation of hydrocarbons, and cost recovery mechanism.
The PSC is based on a simple formula i.e. the contractor provides all capital associated with exploration and development of petroleum resources. In return, if exploration and development efforts are successful, the government allows the contractor to recover costs through the sale of the oil and/or gas and pays the contractor a fee based on a percentage of the remaining revenues. This fee is often subject to taxes and all production will belong to the government.
There are 4 types of current PSC exploration, as follow:-
(i) Revenue-Over-Cost PSC for water depth below 200 metre;
(ii) Deepwater PSC for water depth between 200 metre to 1000 metre;
(iii) Ultra Deepwater PSC for water depth beyond 1000 metre; and
(iv) High Pressure High Temperature PSC.
To date, there are more than seventy (70) PSC contractors in Malaysia and among the major players are PCSB, ExxonMobil, Esso Production Malaysia, Shell Sabah Selatan, Lundin Malaysia, Sarawak Shell Berhad, Sante Fe Energy, Nippon Oil, Amareda Hess, Murphy Sarawak, Mobil, JAPEX, NORSK Hydro, Mitsubishi Corp, Petrofac, Newfields, Talisman and ConocoPhillips. However, PCSB, Shell and ExxonMobil dominate the Malaysian exploration and production ("E&P") with 43%, 22% and 16% respectively, thus making up more than 80% of Malaysia total production.
Since its inception in 1976, the PSC scheme has contributed to the discovery of 22.2 billion barrels of oil equivalent (BBOE) of oil and gas resources in Malaysia, of which fourteen (14) BBOE of oil and gas were produced from 132 fields, data from PETRONAS indicated. The scheme also attracted $75.4 billion (MYR 330 billion) in total upstream investment, including the construction of 10 terminals, 320 offshore platforms and 4,350 miles (7,000 kilometers) of upstream pipeline.
Economically, the PSC scheme generated around twenty per centum (20%) of Malaysia's gross domestic product in 2012. The 27 PSC Contractors in the country created jobs for 20,000 people, while the scheme created business opportunities for more than 4,000 oil and gas services companies in Malaysia.