Lex Machina explains how COVID-19 pandemic has affected US federal district litigation through a new App
The renowned company Lex Machina has launched a new COVID-19 Impact Analyzer App (called "COVID App") on Tuesday to provide lawyers with analysis and information to understand how the COVID-19 pandemic has affected judicial activity in the federal districts of the United States.
Specifically, this novel App provides the following information:
• New total case filings.
• New case filings by practice area.
• Judicial findings.
• Complaints that mention COVID-19 or similar terms.
"Lex Machina used a combination of machine learning and attorney review to present the most comprehensive and accurate data possible in its COVID App. The easy-to-use interface will allow individuals and organizations to search the data by week, beginning the week of February 24, 2020, and compare the data against previous years", explains Legal Content Associate Gloria Huang at Lex Machina.
The results compiled through this App show an increase, during the months of March, April and May 2020, in the initiation of legal proceedings relating to the insurance, employment and securities cases sector. On the other hand, there has been a decrease in the demands in the findings and trials during the weeks of March, April and May this year compared to 2019.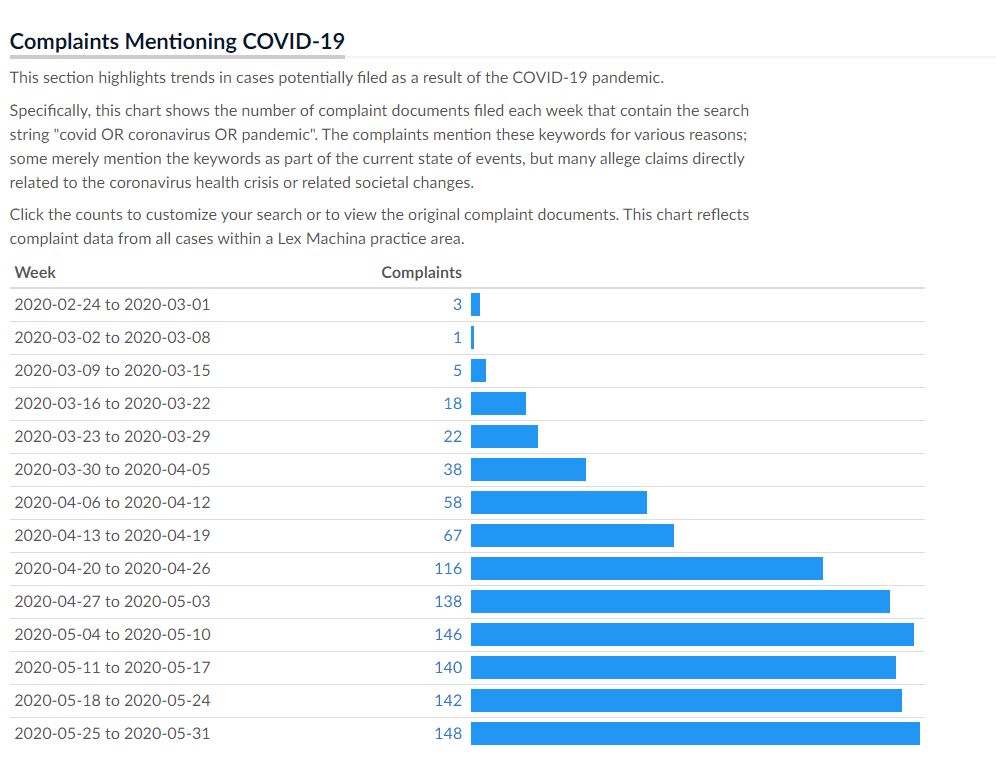 Source: Lex Machina
Lawsuits filed in Lex Machina's practice areas involving COVID-related keywords increased rapidly during the months of March and April, reaching a rate of 142-149 lawsuits per week during the month of May.
This App is available to both subscribers and the general public. For more information, please read: https://lexmachina.com/