Top 10 Law Schools in the World
All over the world there must be thousands of schools or colleges where you can get a law degree. However, if we stick to the number of educational centers that make a difference and have international prestige, the number is drastically reduced.
Below, we offer the ranking of the ten best law schools in the world according to the QS World University, which includes an annual classification of 800 universities in the world arranged with a hierarchical criterion. It is published by Quacquarelli Symonds, a British company specializing in education. According to this ranking, the top ten law schools in the world are:
10. National University of Singapore Law School
The National University of Singapore Law School (NUS Law) is regarded as the leading law school in Asia. It has a body of professors from diverse geographical origins which, together with the fact that Singapore has been a great commercial center of Asia for more than a century, make NUS Law the Global Law School of Asia. Since 1957, its curriculum has been infused with aspects of other jurisdictions and disciplines.
The strength of the NUS Law curriculum lies in the wide and diverse range of subjects it offers. In addition to a rigorous core curriculum, students can choose electives in areas ranging from Asian legal studies to banking and finance, from public international law to intellectual property, or from arbitration to jurisprudence.
9. University of California–Berkeley Law School
The University of California, Berkeley, School of Law is regularly ranked in the top ten American law schools and in the top three public law schools in the country.
The school is known for its unconventional approach to legal education. At UC Berkeley Law, there are no letter grades or GPAs, nor are students ranked against each other.
After completing a first semester consisting primarily of required courses, students have the opportunity to customize their study plans to best suit their individual academic and career aspirations.]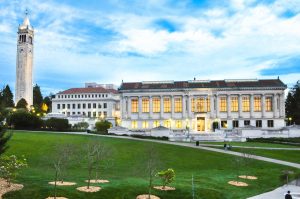 Berkeley Law School. (Photo: Berkeley)
8. New York University School of Law
Founded in 1835, New York University School of Law is the oldest law school in New York State. NYU Law gives students access to a myriad of businesses, major employers, and bustling industrial and political activity.
Beginning in their freshman year, NYU Law students gain hands-on experience in practical legal skills through the school's Lawyers Program. In their second and third years, students can put their knowledge to the test in more than 30 legal clinics and around 25 centers on campus, in addition to Colloquia's dynamic seminar classes that consist of a series of workshops on a given topic. .
Students can earn joint degrees through other NYU schools, such as the top-tier Stern School of Business, or dual degrees with outside institutions, such as the Harvard Kennedy School of Government and the Woodrow Wilson School of International and Public Affairs. from Princeton University. There are over 50 student organizations to check out, and students can live on campus. The school also offers foreign student exchange programs, giving law students the opportunity to study at some 15 universities around the world.
7. Columbia Law School, New York
Columbia Law School is known as a world leader in the fields of law and legal education. The school has a number of strong and long-standing relationships with many of the world's leading law firms, Fortune 500 companies, social justice institutions, and several other valued professional entities.
With a student-faculty ratio of just 5.2 students-faculty, Columbia Law students are able to receive extensive direct attention from faculty, working closely with leading renowned jurists. The school is known for the rigor of its studies and its highly competitive admissions.
With numerous experiential learning opportunities, including pro bono legal service, clinical programs, and internships, Columbia Law offers students many different options to gain real-world experience working with clients.
6. London School of Economics and Political Science Law School of London
Founded over a century ago, the London School of Economics and Political Science School of Law began teaching the subject of law as early as 1895. Throughout its long history, LSE Law has become one of the best schools of law in the world.
It has been named the best school in the UK for research results in the most recent Research Excellence Framework (REF).
LSE Law School emphasizes the importance of interdisciplinary and international perspectives to study law. The school regards inclusion as an essential component of its identity and its approach to legal education.
The school is located in London, at the heart of legal activity in the UK. Its campus is situated in close proximity to Lincoln's Inn, one of the four Inns of Court of which all UK barristers are required to be members, as well as the Royal Courts of Justice.
5. Stanford Law School
Stanford Law School has been ranked among the top three law schools in the United States every year since 1992. The school offers students the opportunity to design unique and customized joint degree programs or create new courses based on the individual student interests.
With a student-faculty ratio of just 4.4 students-faculty, Stanford students work closely with the school's renowned faculty, many of whom are among the world's foremost jurists and legal scholars. .
Located near Palo Alto, California, in Silicon Valley, SLS offers its students close access to this global hub for technology industry and innovation. 88.8% of Stanford law students in the graduating class of 2017 were employed at the time of graduation, rising to 90.4% ten months after graduation.
4. Yale Law School
Yale Law School is known for its exceptional faculty, its stellar track record of successfully placing students in illustrious careers after graduation, and its state-of-the-art research facilities.
This educational center has been the alma mater of several prominent public figures, including United States Presidents Gerald Ford and Bill Clinton and former Secretary of State Hillary Clinton.
Yale Law's acceptance rate for the 2020-2021 academic year was just 4%, making it the most selective law school in America.
The pass rate for the bar exam is as high as 99% of the school's students, which is evidence of the high-quality education that Yale Law provides its students.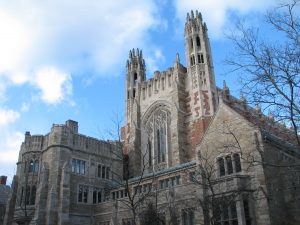 Yale Law School. (Photo: Wikipedia)
3. Cambridge University Law School
Founded in 1209, the University of Cambridge is the fourth oldest university in the world. Law has been studied and taught at Cambridge since the 13th century, when the core subjects of legal studies in all European universities were civil law (the law of ancient Rome) and the canon law of the Church. The first graduates of the Cambridge School of Canon Law held the highest judicial offices in Europe, in the Avignon Rota.
Located in Cambridge, a global hub for technology and innovation, the university emphasizes the intersection between academia and business.
Among the benefits received by the Faculty to support study and research are the Whewell Trust Fund (1867), for scholarships in international law; the bequest of Edmund Yorke (1873), used for the Yorke Prize and other undertakings related to the study of law; the Maitland Memorial Fund (1906), established in honor of FW Maitland, Downing professor and renowned legal historian, for the promotion of research and teaching in the history of law and legal language and institutions; the Squire Scholarship Fund, received from the trustees of Miss Rebecca Flower Squire in 1901 to provide scholarships and grants in law; the Wright Rogers Bequest (1966), for scholarships and grants; the Hersch Lauterpacht Fund (1967), for the study of international law; and a number of prize funds.
2. Oxford University School of Law
There is evidence that the teaching and study of law began at Oxford University as early as 1096, making it the oldest university in the English-speaking world and the second oldest university in continuous operation worldwide.
Throughout its more than 800-year history of providing legal education, Oxford University Law School has become a world leader in law, establishing itself as a globally recognized institution for learning.
1. Harvard Law School
Harvard University Law School (HLS) is famous throughout the world for the high quality of its training.
HLS has become a factory for members of the Government, the Judiciary and partners of the most prestigious law firms in the United States, as well as leaders in the world of business, NGOs and academia.
Harvard's distinguished alumni include former United States President and First Lady Barack and Michelle Obama.
Additionally, Harvard holds the record for sending the most graduates to U.S. Supreme Court internships. An estimated 491 Harvard graduates have held these positions since 1960.