Reasons to digitize your office
Legal digitization is a challenge for professionals who work in this sector, but it is also a growth opportunity for them, especially for law firms. Law firms and large firms began their journey in this new digital field some time ago, and for that reason they have not lost the seriousness or the reputation that has characterized them.
Nowadays, society is totally immersed in digitization, as are most of the processes and procedures that have to be carried out, so it is normal for many clients to demand faster and easier management of their operations.
But why should you bet on the digitization of your office? Combining technological resources with data is a business strategy that will bring benefits to your business.
Incorporating technology means applying new marketing strategies. It will make you obtain more efficient services that respond to the needs that your clients demand and will meet the expectations of the new ones who place their trust in your business.
Document management will no longer be a problem with the digitization of documentation. The use of paper and physical files have been left behind, giving way to an era in which cases, files and recordings of hearings and trials are kept with much more security, easy access and save space and money if they are hosted in the cloud. In addition, it allows you to share these documents among professionals, as well as with your clients.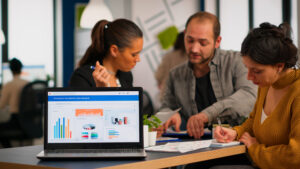 Renewed or die
Digital tools give your office more visibility, improving the loyalty process since customers will be able to continuously monitor it through online communication networks (emails, social networks, etc.).
But communication will not only take place outside the office, but also inside. In the day to day of a law firm there are constant meetings. Thanks to technological tools, such as online meetings or video calls, you could save on travel time and open up the opportunity to access a broader portfolio of clients, as well as partners, nationally and internationally.
One of the most characteristic activities of offices is the daily sending of a multitude of documents that need to be signed. This process, often conditioned by human and physical limitations, can be resolved quickly and easily if a digital signature is available for the documentation.
As you will read, the benefits provided by digital tools are considerable. For this, there are different softwares designed to carry out these functions, but the choice of which one best suits your firm will be conditioned based on the characteristics and interests of your firm.