Climate change: big firms' actions and policies
Climate change matters. Law firms have demonstrated their ability to keep up with the times, both technologically and organisationally, with the challenges brought about by the pandemic. Caring for the environment is a duty we have to acquire as citizens of the planet, and law firms support this global objective. At The Impact Lawyers we have conducted a brief survey of the actions being taken by leading law firms, as well as trying to discover what challenges they are most concerned about.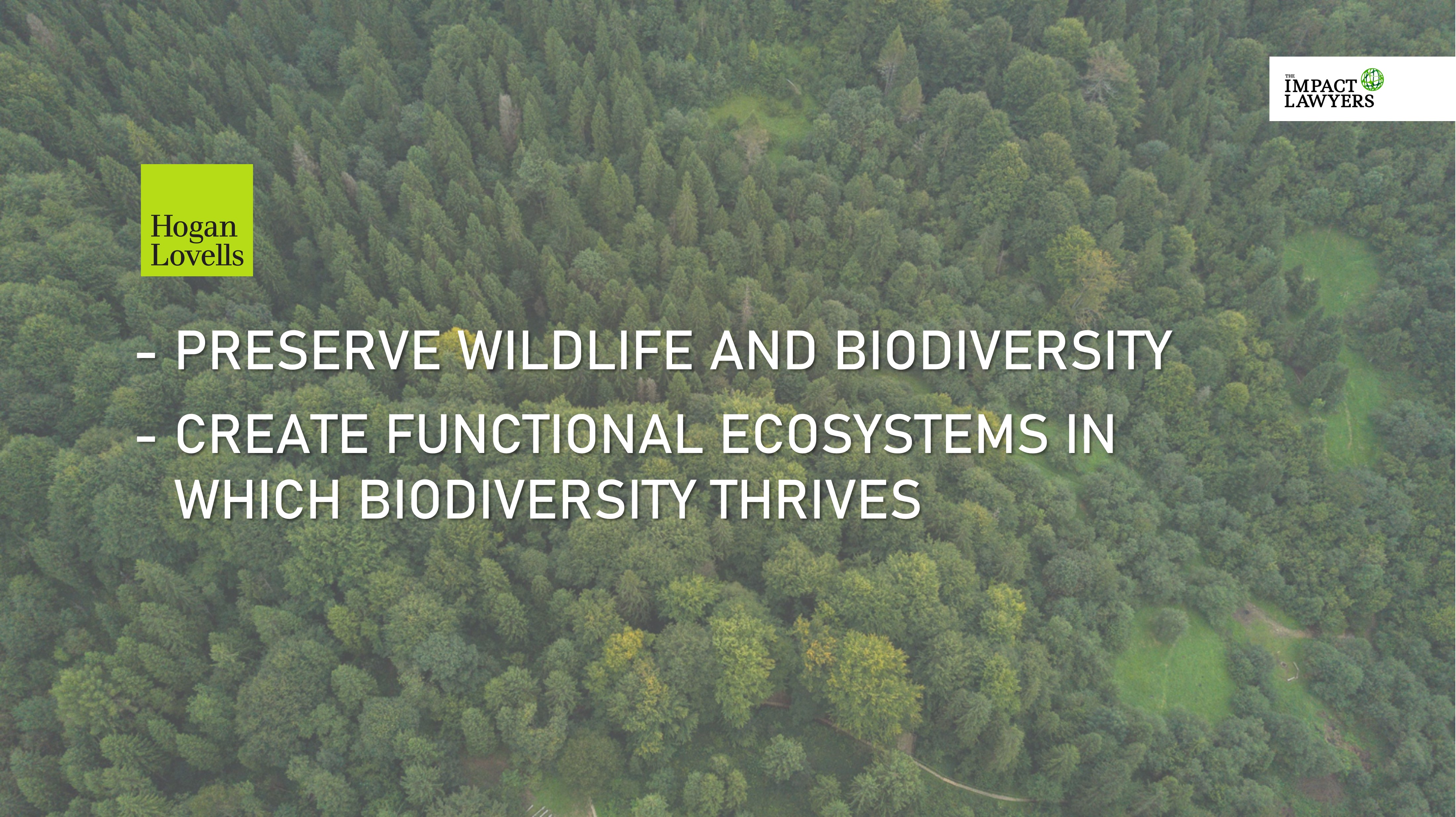 Hogan Lovells
The British firm provides funding and pro-bono support to four major European organizations for a reforestation project.
In 2019, the firm began co-financing a reforestation project in support of an indigenous cooperative based in Finland, Snowchange. Its aim was to preserve wildlife and biodiversity through ecological and sustainable living habits.
In addition to providing financial support of more than 75,000 euros and pro-bono legal advice to this Finnish cooperative, Hogan Lovells has over the last year signed up to reforestation commitments in the Rewilding Europe, Rewilding Britan and The Wildlife Trust projects.
This reforestation initiative has been promoted by Hogan Lovells partners located in different offices: Philip Brown (London), Manon Cordewener (Amsterdam) and Mikael Salmela (Paris).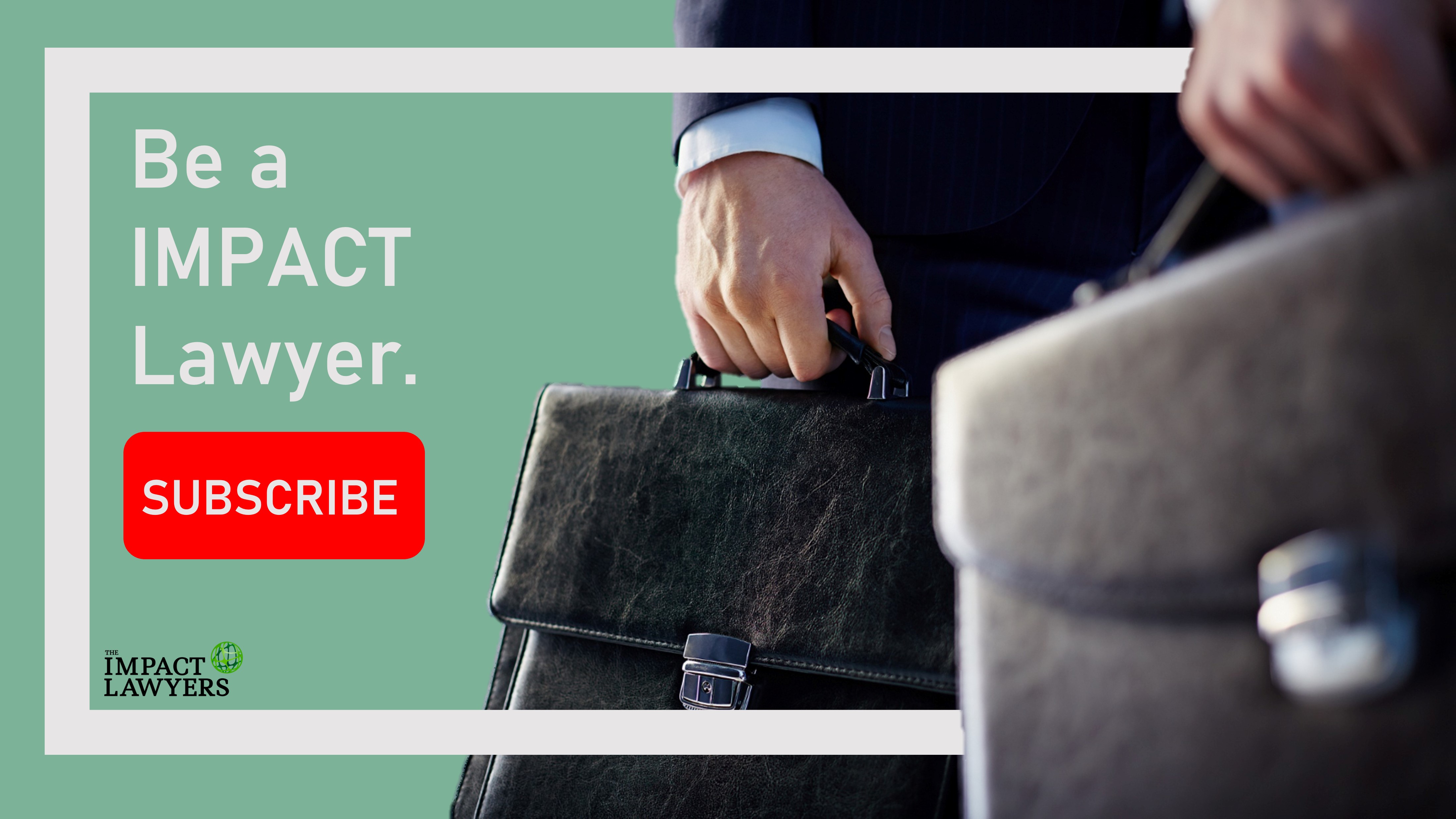 "We face catastrophic impacts from climate change and biodiversity loss. There are no technical quick fixes to these problems, but we can work with the immense restorative power of nature," says Susan Bright, Hogan Lovells' Global Managing Partner for Diversity and Inclusion and Responsible Business. "Our great partner organizations systematically monitor and evaluate the restoration effects of their landscape rewilding projects to create functional ecosystems in which biodiversity thrives".
This initiative promoted by Hogan Lovells is original and is achieving very good results.
"I really believe that, as an institution, we can do more about climate change and be more responsible in the way we conduct our business. We want to be leaders in sustainability and environmental protection," says Miguel Zaldivar, CEO of the firm.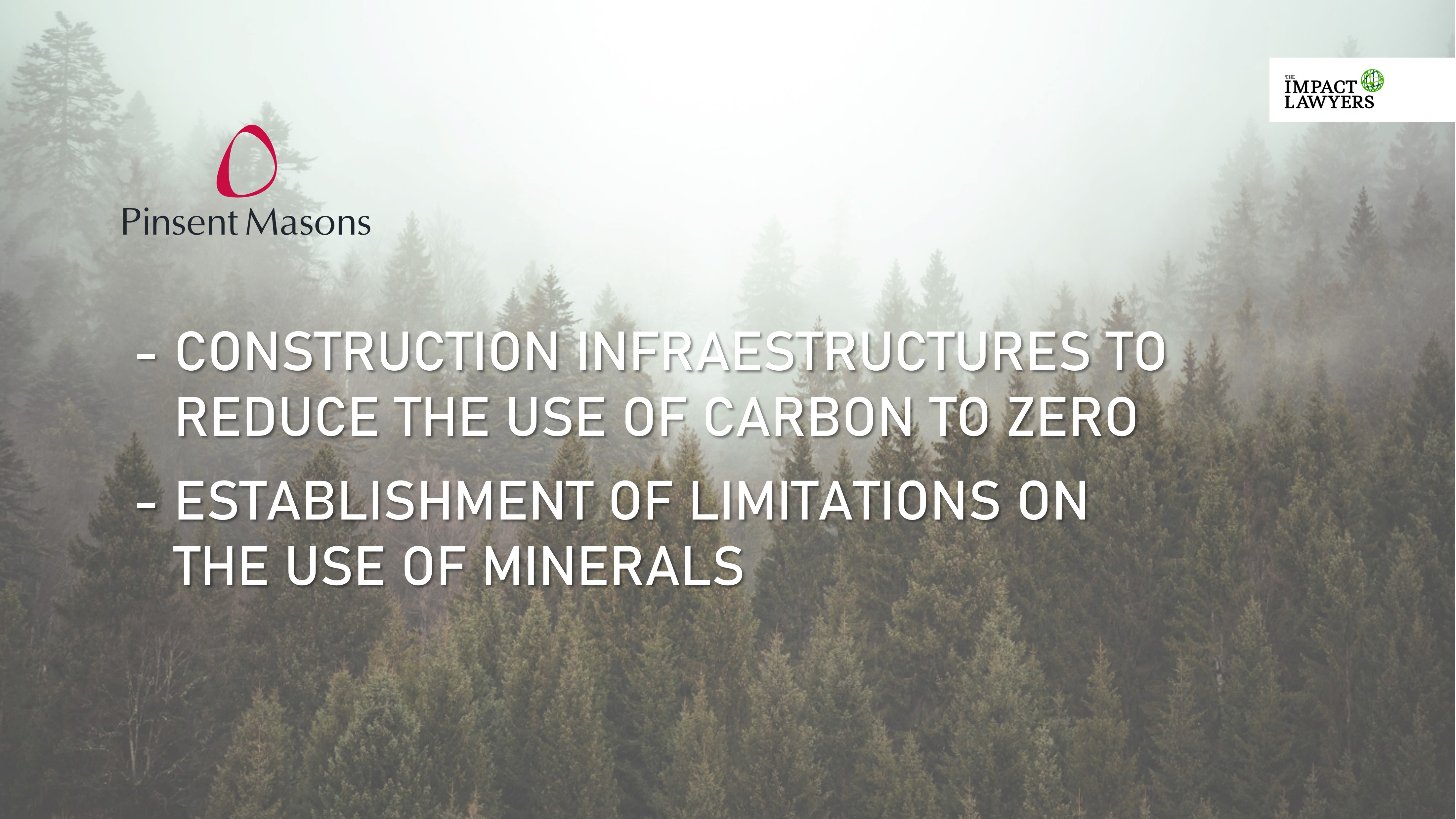 Pinsent Masons
Pinsent Masons is also concerned about climate change. The firm, also of British origin, has signed up to a project, promoted by an independent UK working group ("Achieving Net Zero Cross-Industry Working Group"), which aims to encourage companies in the construction and infrastructure sectors to meet commitments associated with reducing the use of carbon to zero.
The project is embedded in a code of good practice outlining basic and additional commitments for companies working in the above-mentioned sectors. The overriding objective of this project is to reduce direct and indirect carbon emissions completely by 2045. Further full reductions are planned for 2030.
Pinsent Masons is therefore joining this project through the Cambridge Centre for Smart Infrastructure and Construction (CSIC) call for proposals in March 2020. This working group focuses on reducing carbon emissions related to the design, construction, maintenance and operation of built assets.
Thus, the British firm is committed to including in the contracts informative paragraphs on the negative effects caused by the use of carbon and the establishment of limitations on the use of this mineral for new projects.
In addition, Pinsent Masons is committed to producing reports on the carbon they operate with and a commitment to reduce its use in their operations. This includes establishing measures and protocols to reduce its use.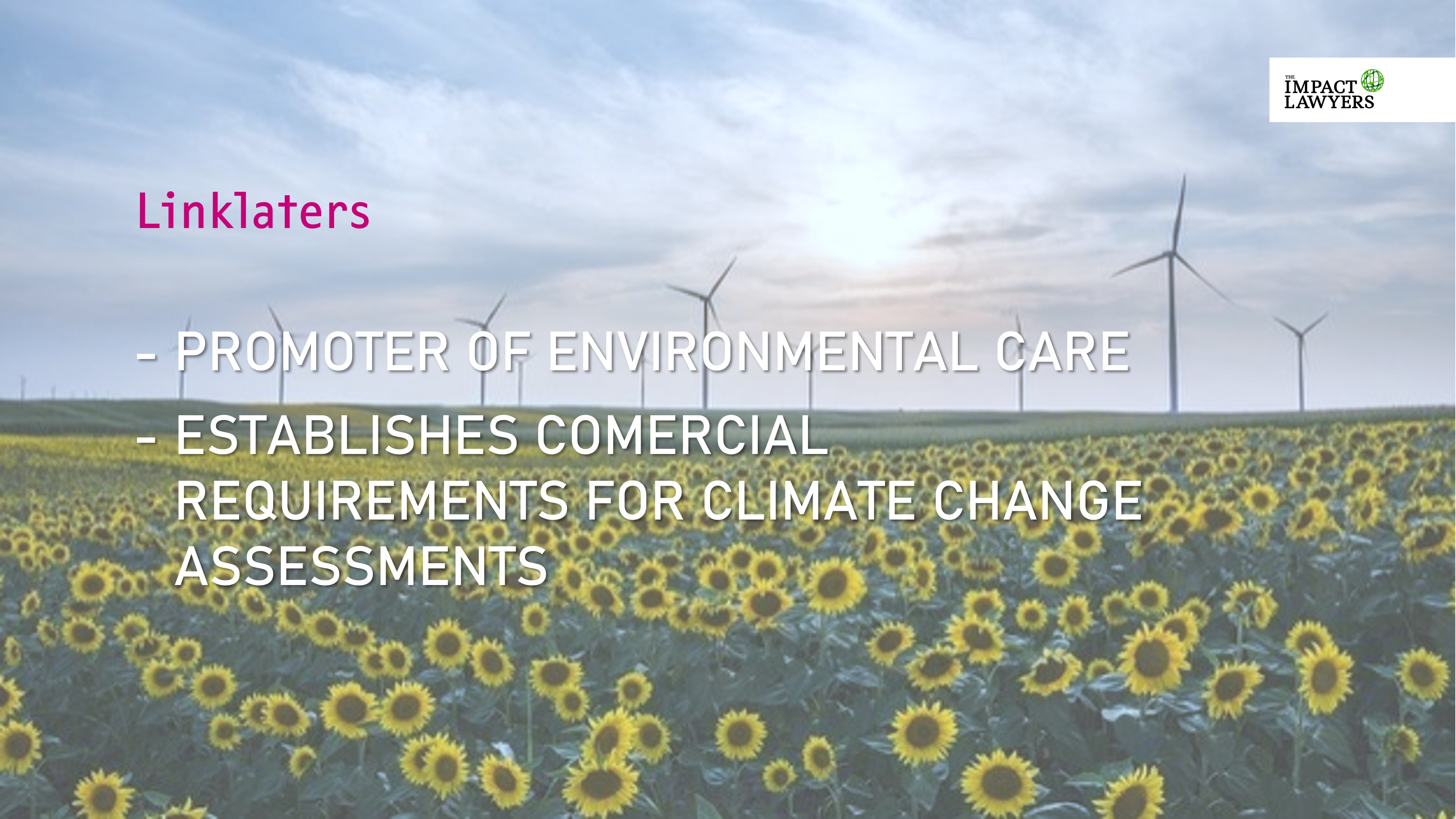 Linklaters
Aware of the importance of climate change on the agendas of many international governments, Linklaters is aware of its role as a promoter of environmental care.
The firm advises its clients on climate regulation (pollution reduction, economic efficiency, among other tasks). It also establishes commercial requirements for climate change assessments.
For its clients, Linklaters supports them in finding mechanisms to analyze and assess their impact on climate change and their environmental impact through the use of carbon.
Linklaters actively participates in studies on environmentally harmful emissions, as well as in the drafting of advisory and sustainability analyses and normative regulation on gas emissions and the application of carbon.
In reforestation, the firm is involved in a project in the Democratic Republic of Congo, the first project on sustainable forestry development mechanisms in Africa.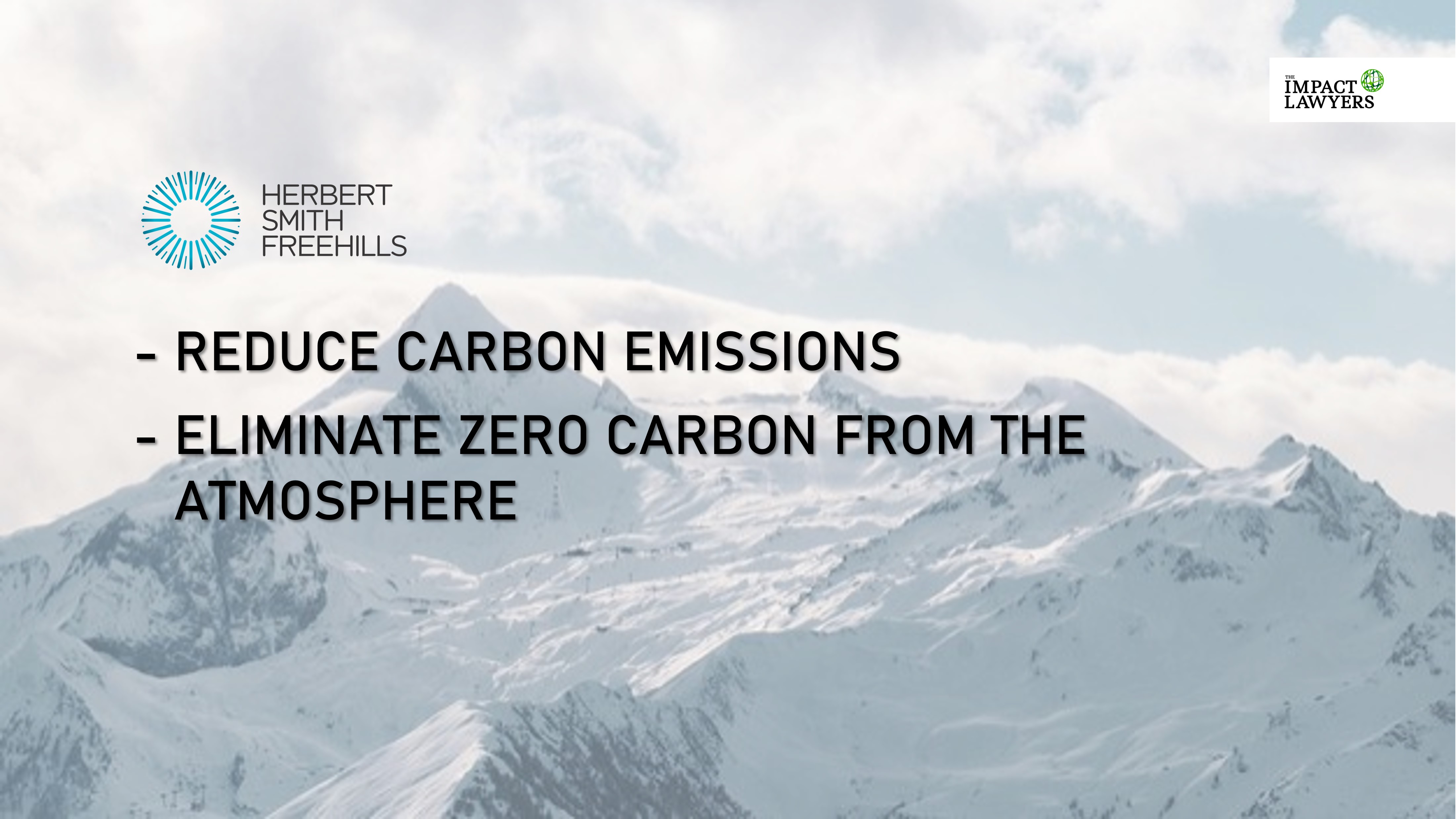 Herbert Smith Freehills
Herbert Smith Freehills is committed to meeting the requirements of the 2015 Paris Agreement.
Among its main commitments to the environment, one of the most important is to reduce carbon emissions by 2030, which aims to prevent the planet's average temperature from exceeding 1.5°.
The company is furthering its active commitment to reducing carbon emissions and differentiates between the terms "carbon neutral" and "net carbon zero".
Carbon neutral means implementing a balancing of greenhouse gas emissions through a system of offsetting that involves removing a similar amount of carbon from the atmosphere as is produced.
This can be achieved by purchasing "carbon credits" - in essence, permission to emit carbon dioxide or another greenhouse gas in exchange for offsetting the effects of those emissions - and/or by supporting GHG reduction initiatives such as renewable energy projects.
A carbon neutral company only needs to offset the GHG emissions it produces, even if those emissions increase.
As for net zero carbon, it means reducing greenhouse gas emissions to zero and thus eliminating them from the atmosphere.
The firm's view is that a company that produces emissions that are harmful to the planet needs to support renewable energy projects to offset the emissions.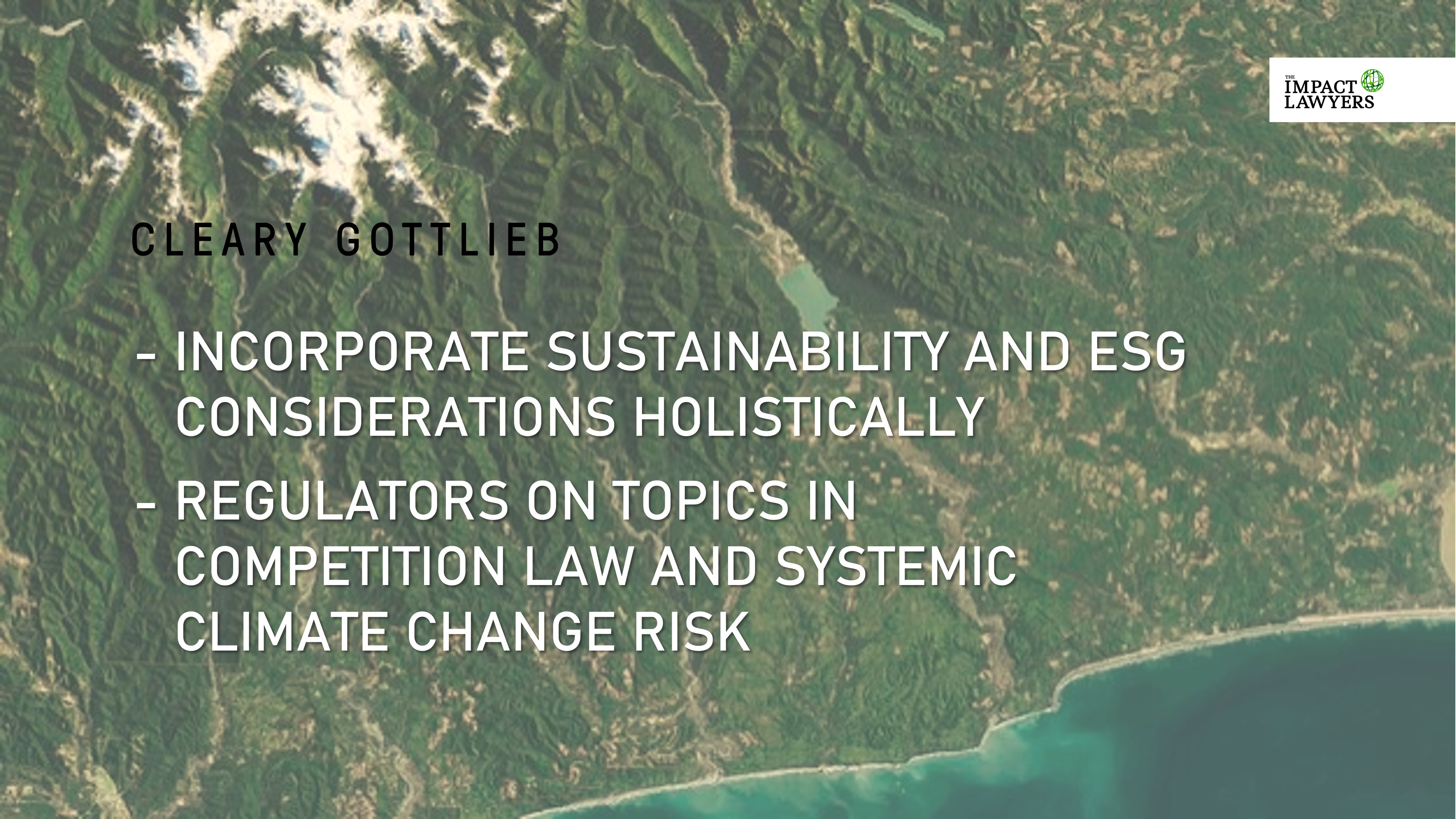 Cleary Gottlieb
Cleary Gottlieb's global practice understands the ways that sustainability and environmental, social, and governance (ESG) issues have become significant strategic drivers of global organizations, companies, financial institutions, and investors.
The firm has been at the forefront of legal, regulatory, and policy developments in this area, both historically and amid calls for a sustainable recovery following the COVID-19 pandemic. They incorporate sustainability and ESG considerations holistically across its practice areas, helping clients reach their sustainability goals and adapt to an evolving business environment.
Cleary's interdisciplinary team brings complementary insights, knowledge, and experience to these matters, delivering practical advice across a wide spectrum of issues like Sustainable competition law, sustainability regulatory frameworks, sustainable finance and capital raising, Litigation, arbitration, and management of disputes involving human rights, climate change, and other environmental concerns, green investment projects, acquisitions, investments, and investment funds and tax strategy and disputes, including carbon tax matters.
Their experience also includes engaging with stakeholders on sustainability issues, including regulators on topics such as sustainability in competition law and systemic climate change risk.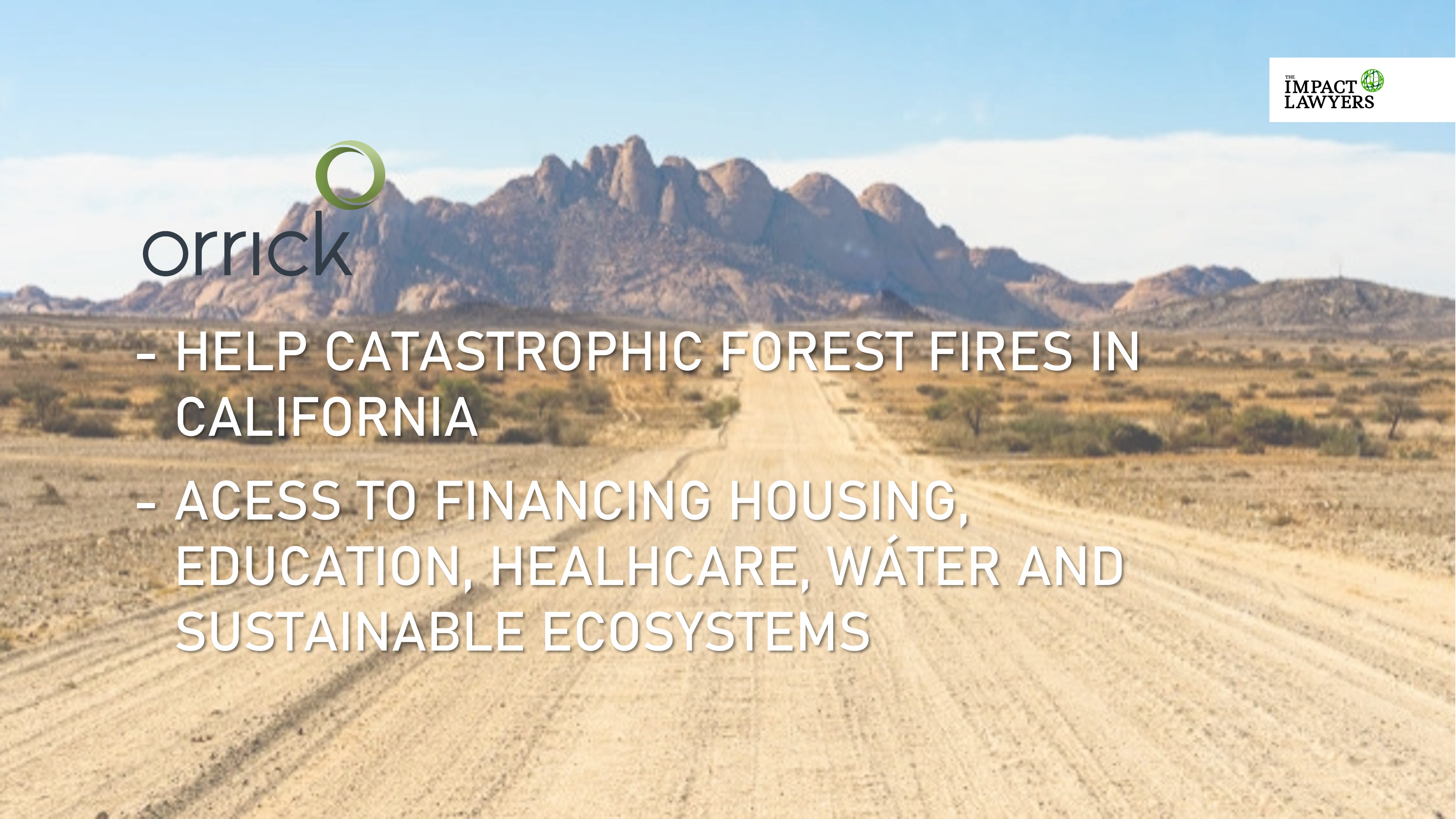 Orrick
Orrick is the First global law firm to establish an Impact Finance and Investment practice, leading the sector as they support Investors and entrepreneurs who aim to make social and environmental impacts alongside financial returns.
They work with Blue Forest Conservation, they introduced the nation's first Forest Resilience Bond (FRB) to enable sustainability-oriented private investors to fund forest restoration. Utilizing a groundbreaking structure, the FRB is helping to address the catastrophic forest fires in California. Blue Forest's pilot FRB for the Yuba Project will lead to over 5,000 acres of fuels reduction and prescribed burning, protecting 14,500 acres in the Tahoe National Forest.
They support the broad social goal of raising the quality of life for people in every part of the world. Its Impact Finance and Investment practice assists organizations working to improve conditions and outcomes across many sectors. With its clients, they help communities gain access to employment, financing, affordable housing, education, healthcare, water and sustainable ecosystems, sanitation technology, and energy.
They've helped clients globally make a meaningful and measurable social impact and advised Goldman Sachs and Calvert Foundation on the nation's first Environmental Impact Bond, issued by the D.C. Water and Sewer Authority to fund green infrastructure and help improve the District's water quality. Assisted LeapFrog Investments Group, a profit-with-purpose investor in emerging markets, on its $180 million investment in Ghana's largest and first publicly-listed insurer Enterprise Group.
Helped too Calvert Impact Capital launch Benefit Chicago, a collaboration with MacArthur Foundation and Chicago Community Trust to invest $100 million in non-profits and social enterprises working throughout the Chicago region. The capital will provide low-interest loans and other investments to accelerate the efforts of local social sector organizations working to address key priorities, such as education and child care, access to healthy food, quality affordable housing, energy conservation, job creation and training and more. And they have acted for Omidyar Network on its investments into entrepreneurs who share their commitment to advancing social good.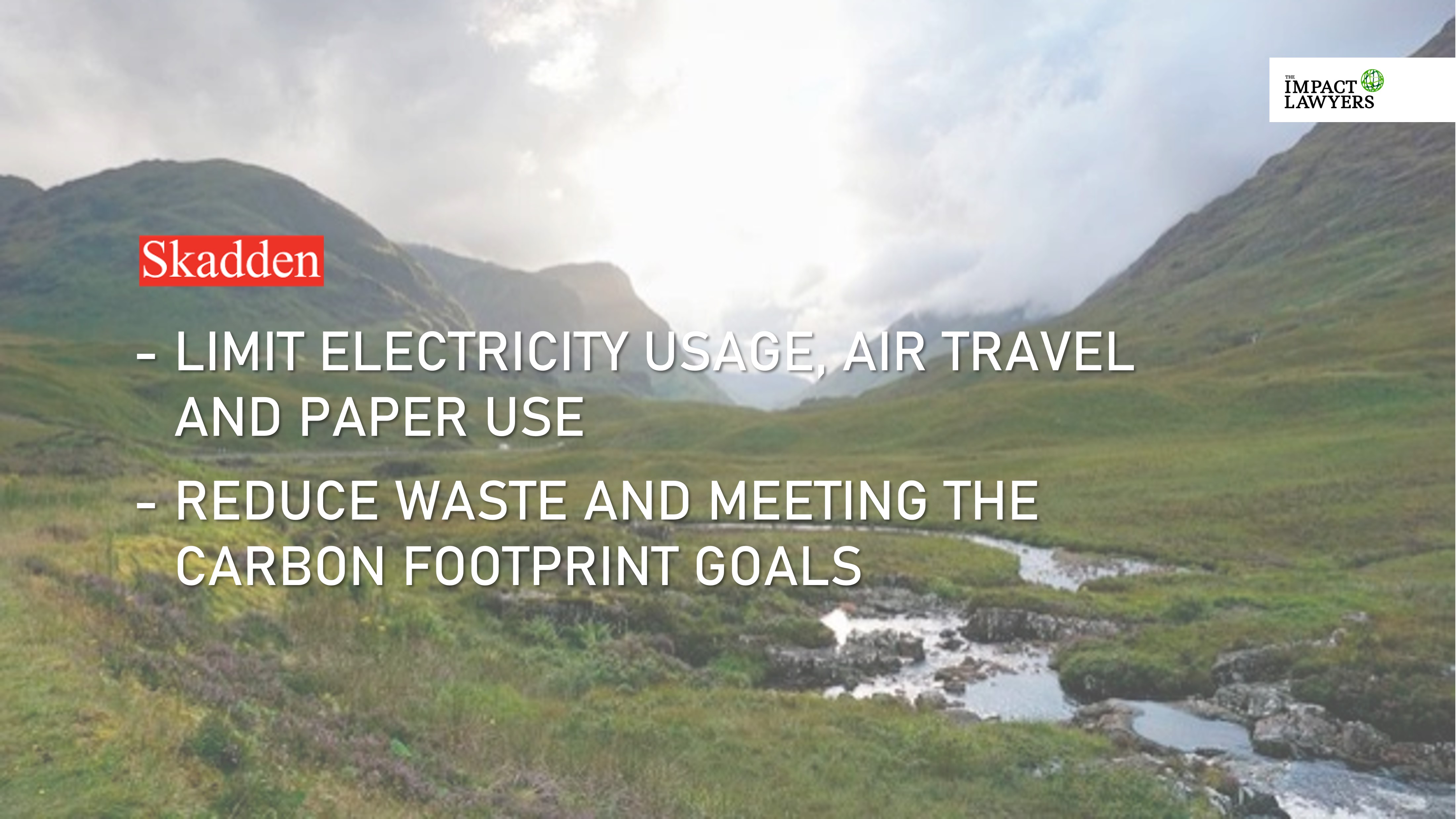 Skadden
Skadden aims to reduce its carbon footprint by at least 25% in the next decade. They intend to reach this goal by remaining actively engaged in sustainability efforts and working closely with experts to develop new approaches to limiting its leading sources of emissions, including electricity usage, air travel and paper use. Also will continue to partner with their attorneys, professional staff, clients, communities and fellow law firms to effect change outside their firm, through both public and pro bono service.
They are committed to helping mitigate the severe consequences of climate change by decreasing the impact of their global operations and partnering with their clients, vendors and communities to support positive change in sustainability practices.
Their global Green Team investigates and coordinates best practices for reducing waste and meeting the carbon footprint goals. The team regularly reaches out to attorneys and professional staff to raise awareness, share tips on making a difference, and invite them to get involved in environmental projects within the firm and their local communities.
They regularly look for ways to share and implement best practices with clients who have a like-minded commitment to sustainability — recent efforts include developing strategies to reduce air travel by their teams, thereby reducing its mutual footprint. The firm also incorporates sustainability into its supplier and vendor decision-making.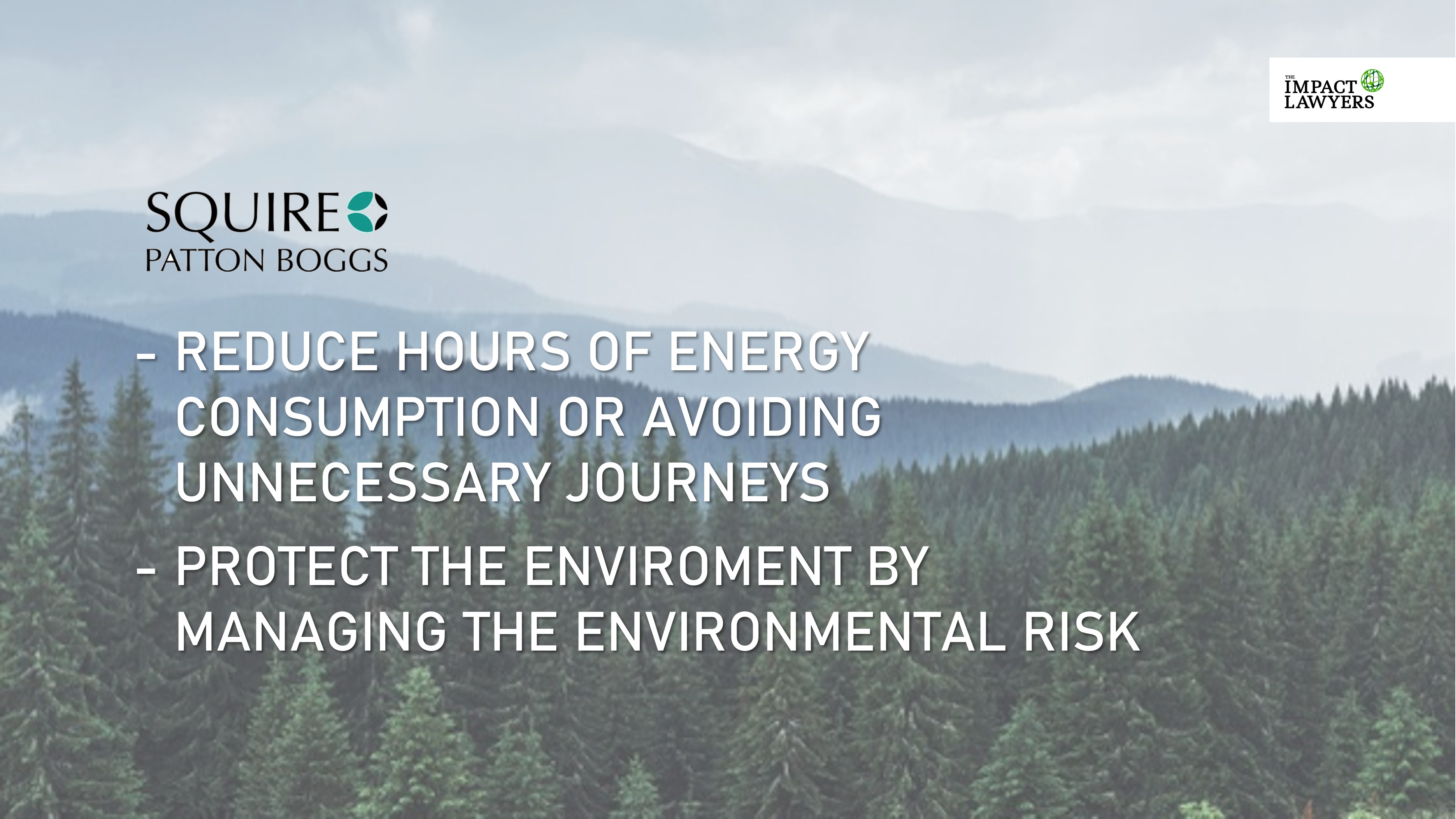 Squire Patton Boggs
Squire Patton Boggs tries to reduce pollution both directly and indirectly in each of its activities, carrying out sustainable strategies in each of its daily operations, using sustainable products and implementing positive actions towards the environment, such as reducing the hours of energy consumption or avoiding unnecessary journeys.
Moreover, this international firm promotes the circular economy and sets procedures that avoid wasting materials and tools and encourage their reuse, thereby controlling macro-consumption and optimising the use of office supplies.
Linked to the reduction of pollution, Squire Patton Boggs collaborates with local entities, supporting specific local communities, selecting appropriate and responsible consumption.
The firm seeks to obtain environmental certifications and accreditations from the different countries where it has established offices and where it collaborates with clients. For example, in the UK, Squire is seeking ISO 14001 certification, which demonstrates that the firm is committed to protecting the environment by managing the environmental risks associated with its activities.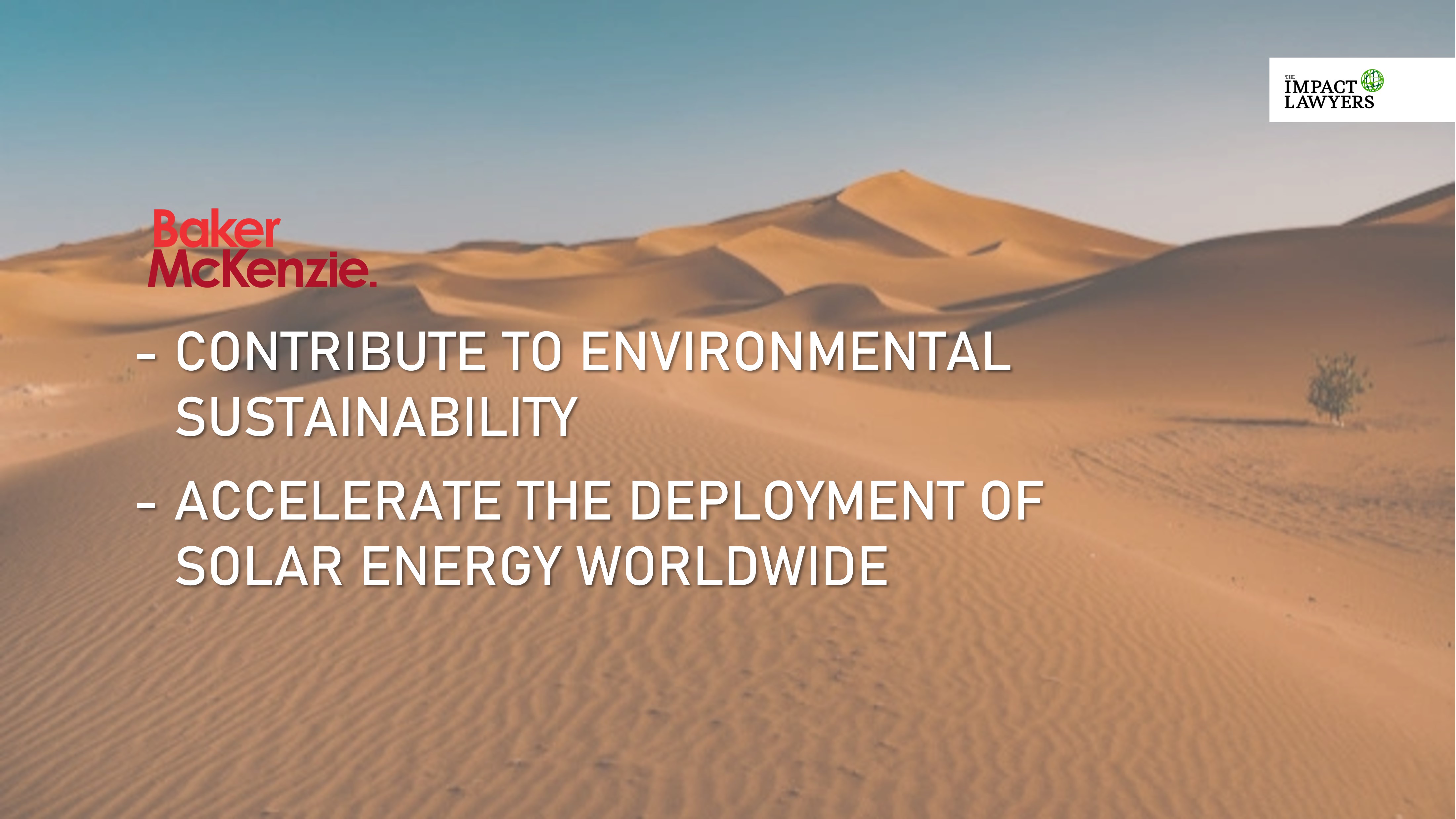 Baker McKenzie
Baker McKenzie is committed to the SDGs and strives to integrate environmental sustainability in a meaningful way into its business strategies and operating models.
It contributes to environmental sustainability through strategic partnerships, pro bono and community service initiatives, and its environmental and energy-focused departments.
Its legal professionals and expert advisors on renewable energy contribute to the Open Solar Contracts initiative, which aims to accelerate the deployment of solar energy worldwide by providing a suite of standardised contracts that help reduce the complexity and increase the efficiency of solar energy transactions.
Baker McKenzie is committed to the use of clean hydrogen. This material is crucial to the phasing out of coal use, as countries cannot currently sustain themselves solely through the use of renewable energy. Widespread use of hydrogen will help reduce the footprint of coal, as well as lowering coal tariffs.
The firm proposes strategies in line with the points agreed in the Paris Climate Agreement. The law firm is seeking to improve its environmental performance across its operations, through its Greener Meetings Initiative, as well as its commitment to developing a business air travel strategy and its Carbon Offsetting Programme.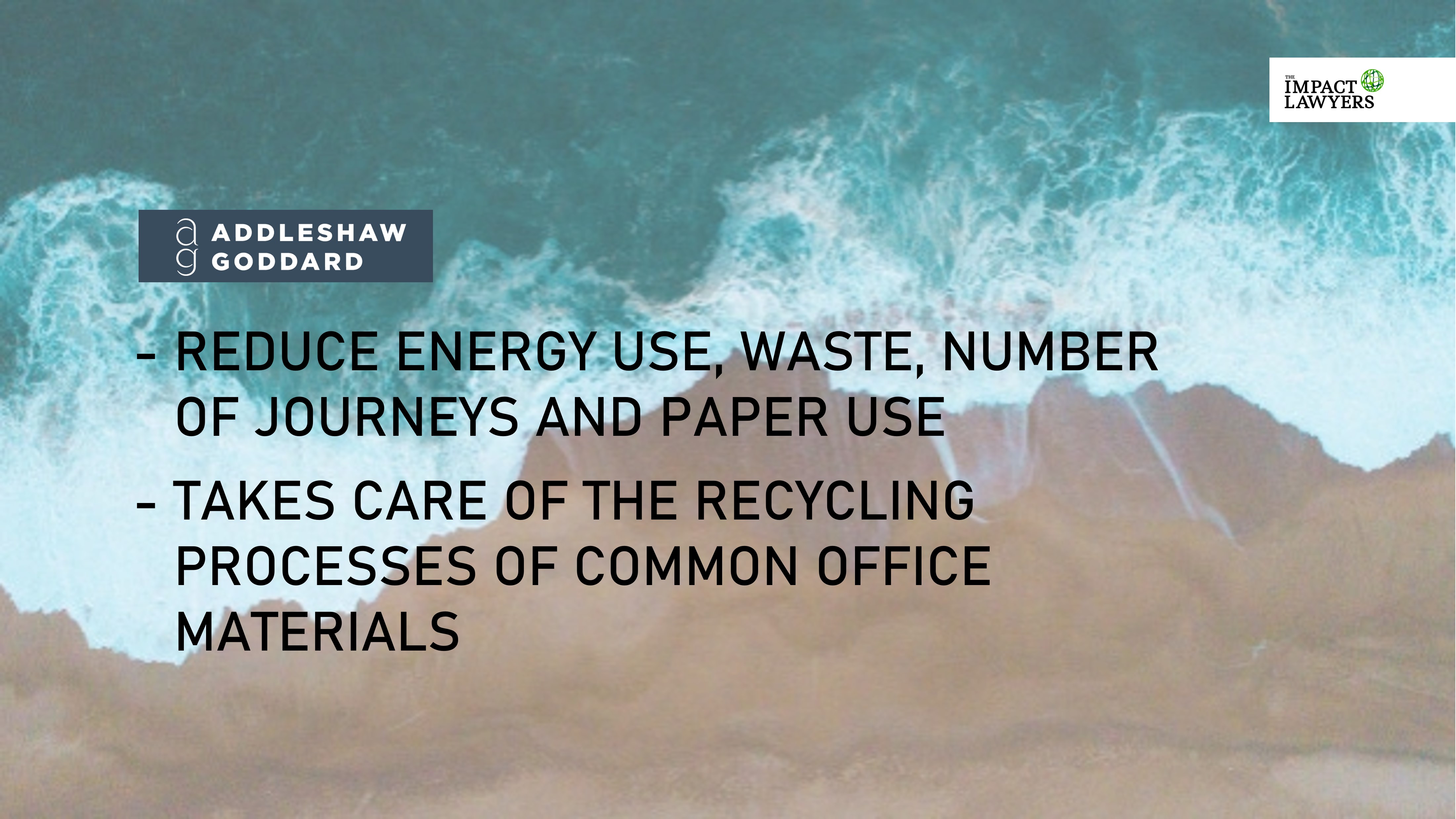 Addleshaw Goddard
The UK-based firm is making efforts to care for the environment:
- Energy: The firm has reduced energy use in its UK offices by 30%.
- Waste: The firm has reduced, on average, 39% of its waste in its UK offices.
- Travel: The firm has reduced the number of journeys made by employees for work purposes by 94%. In turn, the firm has reduced train ticket printing from around 20,000 (2019) to 120 (2020).
- Paper: The firm reduced paper use in its UK offices by 21%.
The firm is also committed to reducing plastic by promoting the use of other materials within its offices. It initially supported this measure with the use of crockery and cutlery in its cafeterias, and when the pandemic began, it made the use of biodegradable cutlery and lunch boxes more widespread.
At the same time, Addleshaw takes care of the recycling processes of common office materials: plastic bottles, printer cartridges, batteries, coffee capsules, tea bags, pens, among others.
Future challenges include reducing emissions from internal travel by 50% (compared to travel between 2019 and 2020), eliminating all non-recyclable plastic in its catering and achieving Carbon Neutral accreditation by 2024.