AI unleashes madness: $1 million for the lawyer who lets himself be replaced by a robot
Lawyer, would you accept in exchange for a significant financial offer to put on headphones in a Supreme Court trial and repeat exactly what a robot tells you to defend the interests of your client?
Last Sunday, Joshua Browder, the CEO of DoNotPay, the world's most famous legal chatbot that claims to have "the first robot lawyer," made a crazy proposal on Twitter: he will pay $1 million to any lawyer who has a case in the U.S. Supreme Court in the near future and who, through a headset, repeats in court what the DoNotPay robot lawyer argues.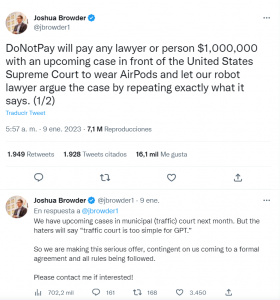 The businessman confessed in his social network profile that he already had cases scheduled in municipal traffic courts in the next month. However, to prove to haters that his chatbot is efficient and beneficial to the interests of users in other higher instances, he has launched this proposal to any lawyer practicing in the United States. "We make this serious offer contingent on us reaching a formal agreement and all rules being followed," one of Browder's tweets indicated.
The company, in its origins, was born as an application that allowed users in the United Kingdom to appeal traffic ticket. Specifically, interested parties entered a series of data in a form and the digital tool prepared a text that served as an appeal. However, over the years, DoNotPay broke all boundaries and, now, this IA that text and legal advice-generating provides real-time advice to a person when facing justice.
From a procedural point of view, experts point out that it is not entirely clear whether the use of the headphones -such as the AirPods- would be allowed in the Supreme Court. Likewise, Browder clarified last Monday that, the financial compensation of one million dollars would be made under the format of a donation to the interested lawyer and would only be carried out if the Supreme Court finally allowed his "techno-legal trick".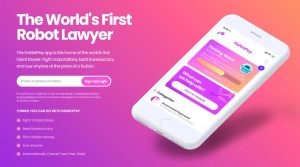 "We just want to make it work," DoNotPay's CEO told digital media outlet Gizmodo. "I think using technology to help people access their legal rights is important. We're doing this because it sends an important message to other courts to allow assistive AI in their courtrooms," he has explained.
«I believe that the use of technology to help people access their legal rights is important.»
Matt Henshon, an attorney and chair of the American Bar Association's Artificial Intelligence and Robotics Committee, told to media POLITICO that the idea of creating AI-powered legal counsel is promising. According to the Boston lawyer, this technological innovation could facilitate legal advice in those lower-risk scenarios where the client enjoys no representation at all.
In this regard, Henshon compared the legal advice provided by the DoNotPay chatbot to that of class action lawsuits, which allow a large number of affected users to obtain representation by grouping many similar claims under a single legal address.