Advice guide: how a lawyer should act in a videoconference
New technologies have made possible new ways and means of communication. Other form of communication is that which takes place over the Internet, specifically, that which involves the transmission of audio and video: videoconferencing.
These streaming meetings imply that those attending a meeting do so online, being able to connect to the meeting from wherever they are thanks to an electronic device with Internet access.
Undoubtedly, this implies a great number of advantages for the attendees since they do not have to physically travel to the meeting place, saving time and money. However, lawyers who use this type of communication must keep in mind that these meetings are still part of their work and therefore, they must act in a professional manner to cause a good image during the videoconference.
Here are some tips for lawyers who use videoconferencing as a means of communication, either with other lawyers, members of their firm or with the clients who hire their legal services.
Technical knowledge
It is essential that when you intervene in an online meeting you have the minimum technical knowledge to know how to manage the application through which the meeting takes place. These skills are very important to set up the meeting, share documents on the screen or via chat and, of course, because in the event of a technical problem or disconnection, solve it as quickly and efficiently as possible.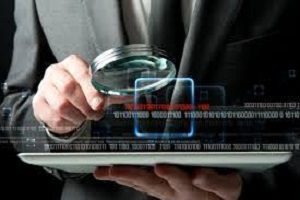 Have an agenda
The fact that the conversation is through a digital network does not imply that it should be less professional. The videoconference is a meeting and, as such, you must have an agenda with the points to be discussed. At the beginning of the call it is important to communicate the agenda to the other attendees. In the event that there are several people in the meeting, you should also inform the rules of behavior or how to ask for the intervention.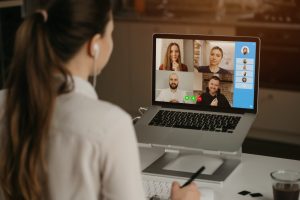 Clothing
One of the advantages of videoconferencing is that it can be done from home, but that does not give you the freedom to wear home clothes, such as nightclothes or sportswear. The image we project says a lot about us, so it is important to look good and adopt a formal attire, as if it were a physical meeting.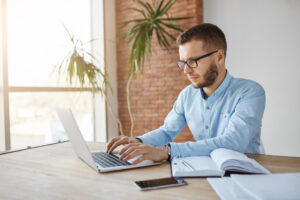 A conditioned space
The physical space in which the videoconference takes place represents our workplace, so we must find an environment that conveys professionalism. A quiet space with good lighting. Artificial light is preferable to natural light so that there are no contrasts between dark and lighted areas.
It is true that sometimes it is difficult to reconcile work and family life, especially when you work from home and there are more people at home, such as children. However, it is important that you avoid distractions while you are on the video call, that no one outside the meeting intervenes or interrupts because, in addition to being a distraction, clients may also consider it as a lack of respect and professionalism on the part of the lawyer.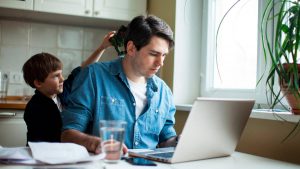 Communicating properly
When you are communicating with the other person, avoid looking at the edges of the screen, instead, you look directly into the camera of the device. This advice should also be followed when the other party is speaking. The reason is that it gives the feeling of closeness and that you are paying attention to him/her.
Try to maintain a proper body posture. The best posture is to lean slightly forward, with your forearms resting on the table and your hands together above the keyboard. Try to gesture as little as possible, especially with your hands, as this can be distracting to other members of the meeting.