Know the OKRs

TABLE OF CONTENTS
1. Interview with Javier Martín and Antón Astray, experts on the OKRs.
2. Podcast: interview with Bo Pedersen, UK Strategy Director at Gtmhub, international OKR consultancy firm
3. Interview with Rebeca Valdeavero, Strategy Consultant at the law firm IUS+AEQUITAS
4. Roadmap for OKR implementation
5. Ten FAQs
---
The OKR (Objective Key Results) methodology is a working tool that is being used by many of the most renowned international firms, regardless of the sector they come from.
Through OKRs, a company can structure and set the action of each of its departments to achieve the primary objectives in a previously defined period of time.
This methodology brings together innovation, communication and management, strengthening the effectiveness of the firms that apply it and enabling them to achieve key goals.
Through this practical guide, provided by The Impact Lawyers, you will learn all about OKRs, access advice from experts in this methodology and learn how to implement them in your firm.
1. Interview with Javier Martín and Antón Astray, experts on the OKRs

- Javier Martín: "Let's take advantage of OKRs for the process of digitalisation, transformation of the organisation".
- Antón Astray: "We will see more law firms using OKR in the future".
The Impact Lawyers has had the pleasure of interviewing experts in the implementation of OKR methodology such as Javier Martín and Antón Astray.
Javier Martín has been advising different companies on how to apply the OKR methodology for years. He currently works as Director of Open Innovation at Sngular, a renowned consultancy on technological solutions.
Antón Astray has worked as a startup advisor at Google. He also worked in a startup dedicated to second-hand marketing and it was in this firm where he implemented OKRs.
What do OKRs consist of?
Conclusions:
1. OKRs will allow you to:
1.1. Achieve key objectives for your firm in the medium or long term.
1.2. You will connect your teams.
1.3. You will encourage innovation in your firm.
1.4. You will change the organisational culture of your firm.
2. OKRs, in addition to setting key objectives, involve a periodic review, where you can define the objectives, identify difficulties and measure the benefits.
What are OKRs not about?
Conclusions:
1. Caution should be exercised in determining what OKRs are and what they are not. According to the experts consulted, OKRs are not:
1.1. KPIs (Key Performance Indicators).
1.2. Methods that evaluate the performance of workers.
1.3. Mechanisms for setting numerical targets (such as new customer acquisition, market share, revenue).
2. It should be noted that OKRs do not follow a hierarchical structure, without leaving the realisation of OKRs to a few workers. It is rather the opposite. The implementation of this methodology depends on a large number of employees in the company, in addition to the body leading this methodology.
What are the difficulties in implementing OKRs?
Conclusions:
1. By setting objectives and carrying out tasks for a short period of time, the realisation of OKRs requires constancy and perseverance.
2. Follow-up meetings are important, and these have to be held at regular intervals, so that progress and new tasks can be accurately measured.
3. A challenge to be taken into account is the level of motivation of all employees involved, as the success of this implementation depends on them. In addition, employees must have a working knowledge of how OKRs work, so that they know where their efforts are going.
4. In addition, it is very likely that this methodology will not be carried out perfectly the first time, so it is important to keep insisting on other occasions, where you will have learned from the mistakes made in the past.
What advices would you give to those companies that are going to implement OKRs?
Conclusions:
1. In order to tackle OKR implementation correctly, it is important to have determination and decisiveness.
2. The company must have flexibility to be able to adapt to this new working methodology and there must be fluid communication between employees and departments.
3. A very useful tip is to be patient. Through OKRs, your firm will not bear fruit in the short term, so it is advisable to set longer deadlines for the objectives you set.
4. The workers involved must be familiar with this methodology. It must be explained to them what benefits the application of this working method can bring to the company and to themselves.
5. It is important to choose one or several figures (OKR Champion) who can dynamise and lead the implementation process and its realisation.
6. The OKR Champions must be the ones who know best about OKR and must have influence on the other co-workers, so that they can lead correctly and evaluate periodically.
7. For the review of objectives and tasks it is necessary to focus on CFR (Conversations, Feedback and Recognition).
Which steps should be taken into account when implementing OKR in any company?
Conclusions:
Relevant aspects when implementing OKR in your firm:
1. The motivation of all people involved in OKR.
2. Training of OKR employees.
3. Planning of the tasks and key objectives (Objective Key Results -OKR-), of the workers who are going to participate and of the deadlines.
4. Designation of OKR Champions, people responsible for the implementation of this methodology.
5. Coordination and fluid communication between the departments that are going to participate, in order to avoid discrepancies.
6. Periodic meetings between the departments to observe the progress of the tasks and to define the objectives.
Will OKRs finally be implemented in the legal sector?
Conclusions:
1. Both Javier Martín and Antón Astray believe that OKRs will finally be implemented in the legal sector.
2. OKRs are an ideal methodology for companies that provide services, as they can help them to organise themselves better and can help in their organisational structuring, marketing plans, digital transformation, among other processes.
3. OKRs allow all firms to define key objectives and coordinate the entire company to achieve them in an orderly and practical way.
What do you think are the reasons why OKRs are not yet being implemented in the legal sector?
Conclusions:
1. although both digital and organisational transformation are finding it difficult to be implemented in the legal sector, the pandemic and rise of remote working facilitates the implementation of innovative and disruptive methodologies in law firms.
2. Product firms tend to implement agile working tools more easily. In contrast, service firms, whose efforts are more focused on customer satisfaction, are less receptive to applying methodologies such as OKR within their firms. For example, lawyers may see the implementation of OKR as a burden and, on the contrary, OKR can help them to be more efficient and productive.
3. OKR methodology is easily implemented in embryonic or short-lived firms, and costs more in older firms, as the mere implementation implies a change in the organisational culture of the firm, as well as a direct involvement of its employees.
Contact
- Javier Martín: javier.martin@sngular.com
- Antón Astray: antonastrayrodriguez@gmail.com
2. Podcast: interview with Bo Pedersen, UK Strategy Director at Gtmhub, international OKR consultancy firm

We spoke to Bo Pedersen, Chief Strategy Officer at Gtmhub, a company whose main objective is to enable organisations to improve internal alignment and maintain focus through a world-class OKR platform. Gtmhub has worked with well-known international firms such as AIG, IKEA, Adobe, TomTom, Experian, among others. It has also advised several government agencies in the US and UK.
Gtmhub has offices in London, Denver, Berlin and Sofia.
Below is a podcast of the full interview with Louise Southey, UK Director of The Impact Lawyers, and Bo Pedersen.
Contact
- Gtmhub: sales@gtmhub.com
3. Interview with Rebeca Valdeavero, Strategy Consultant at the law firm IUS+AEQUITAS

We contacted the Boutique proceduralist firm IUS+AEQUITAS to find out how the OKR methodology is being implemented in a law firm. We are welcomed by Rebeca Valdeavero Martínez, Strategy Consultant who collaborates with this firm.
Rebeca has developed her professional career for more than ten years in the area of HR consultancy and training for management development, participating in the conceptualisation and implementation of programmes aimed at the development of management skills, emotional intelligence in organisations and entrepreneurship management for various public and private entities in different sectors, both in Spain and in other countries.
How long do you think it might take to implement this methodology in the firm?
Conclusions:
1. Generally a cycle of 6 months is set to see how this methodology works.
2. It is relevant to carry out a previous "pre-process" period of the implementation.
What are the necessary steps to implement OKR in the firm?
Conclusions:
1. Ask yourself why you want to implement this methodology.
2. Start with a strategic vision. Be clear, at least, about the objectives for at least one year.
3. Train the members of the organisation so that they are familiar with the methodology.
4. Work with alignment. Organise individual and group sessions with the heads of each area, with executive management and then with the teams. This will serve to align everyone in the development of the methodology in order to determine the key results.
You highlighted the importance of pre-training, what exactly does this pre-training consist of?
Conclusions:
Tips to keep in mind regarding pre-training:
1. train on the purpose of OKRs, what they are for, how objectives are determined, how they are monitored and when evaluations are carried out.
2. Link the training to the company's operational system. It involves a reassessment of how operations were run in the past, to determine how they can be run more efficiently in the future.
3. Consider how to achieve greater wellbeing in teams.
What objectives have you set out to achieve at IUS+AEQUITAS through OKRs?
Conclusions:
IUS+AEQUITAS are paying attention to:
1. addressing qualitative objectives, away from economic-financial efficiency. These have to do with:
1.1. Increasing the reputational benefit of workers.
1.2. The growth of the company's branding.
1.3. The development of the work teams.
1.4. Talent management.
1.5. The enhancement of interdepartmental collaboration.
What difficulties can be encountered in law firms?
Conclusions:
A law firm may encounter the following difficulties:
1. Having little experience in working towards objectives in a planned way.
2. Spending time on monitoring. In the legal sector, there is often a strong focus on client service, with little time devoted to follow-up and management to develop the firm's purpose.
Law firms generally pay little attention to building a corporate culture.
Tell us about the importance that follow-up should have in this type of methodology.
Conclusions:
1. Weekly monitoring and quarterly evaluation is useful, although monthly evaluations are advisable.
2. It is also important to make the objectives and degrees of achievement visible to the whole team, so that everyone involved can mark the actions they have taken to achieve these objectives. There are many tools and applications that can easily visualise the tasks and objectives set.
Do you think this methodology can be used in law firms?
Conclusions:
Rebeca believes that, undoubtedly, the OKR methodology can be implemented in a law firm. OKRs are a method of monitoring objectives with many advantages:
1. Objectives can be parameterised and categorised.
2. It allows you to rethink how you are doing things and to discover the parameters that increase the effectiveness of your actions.
3. It boosts the development and talent of teams.
Contact
Rebeca Valdeavero: info@gentalent.es
4. Roadmap for OKR implementation

The implementation of OKRs involves a number of steps and timeframes, which have to be designed by each firm. We include an example of what a roadmap for implementation might look like: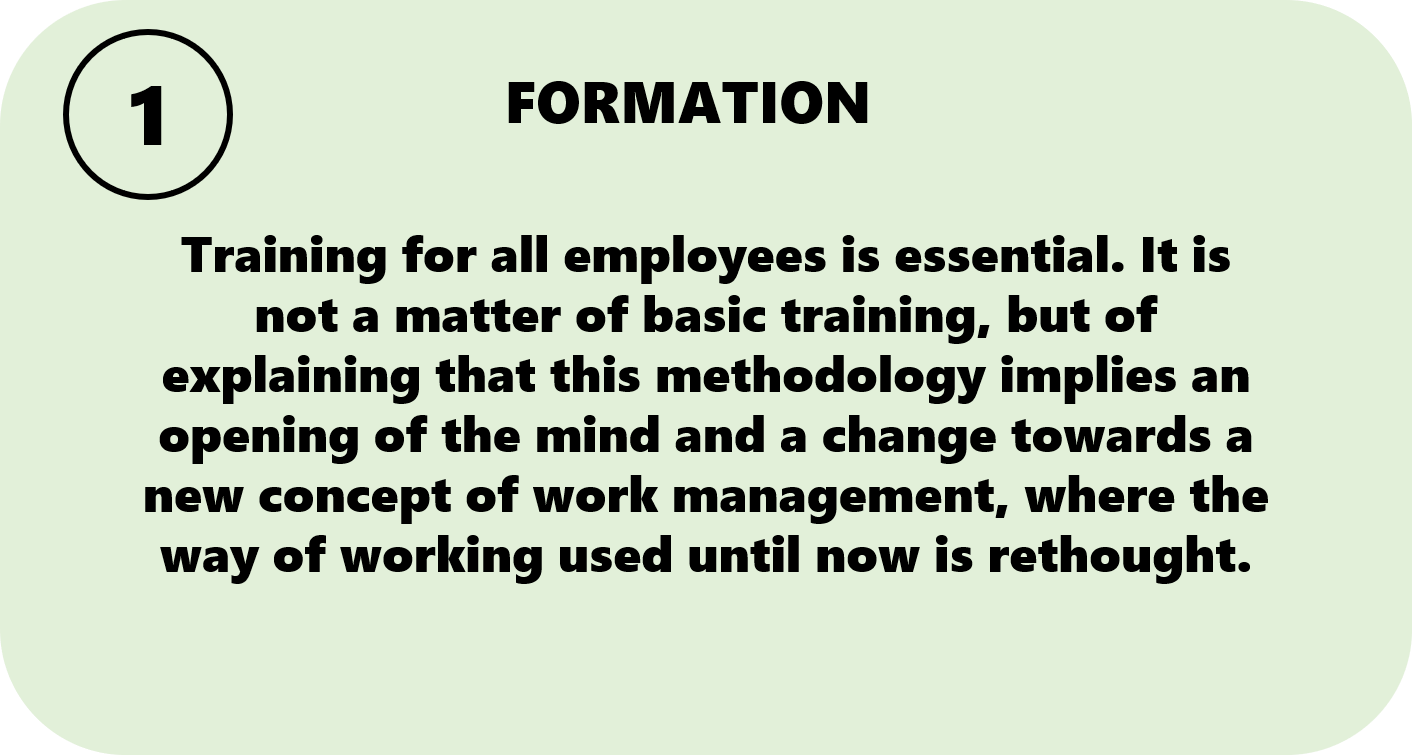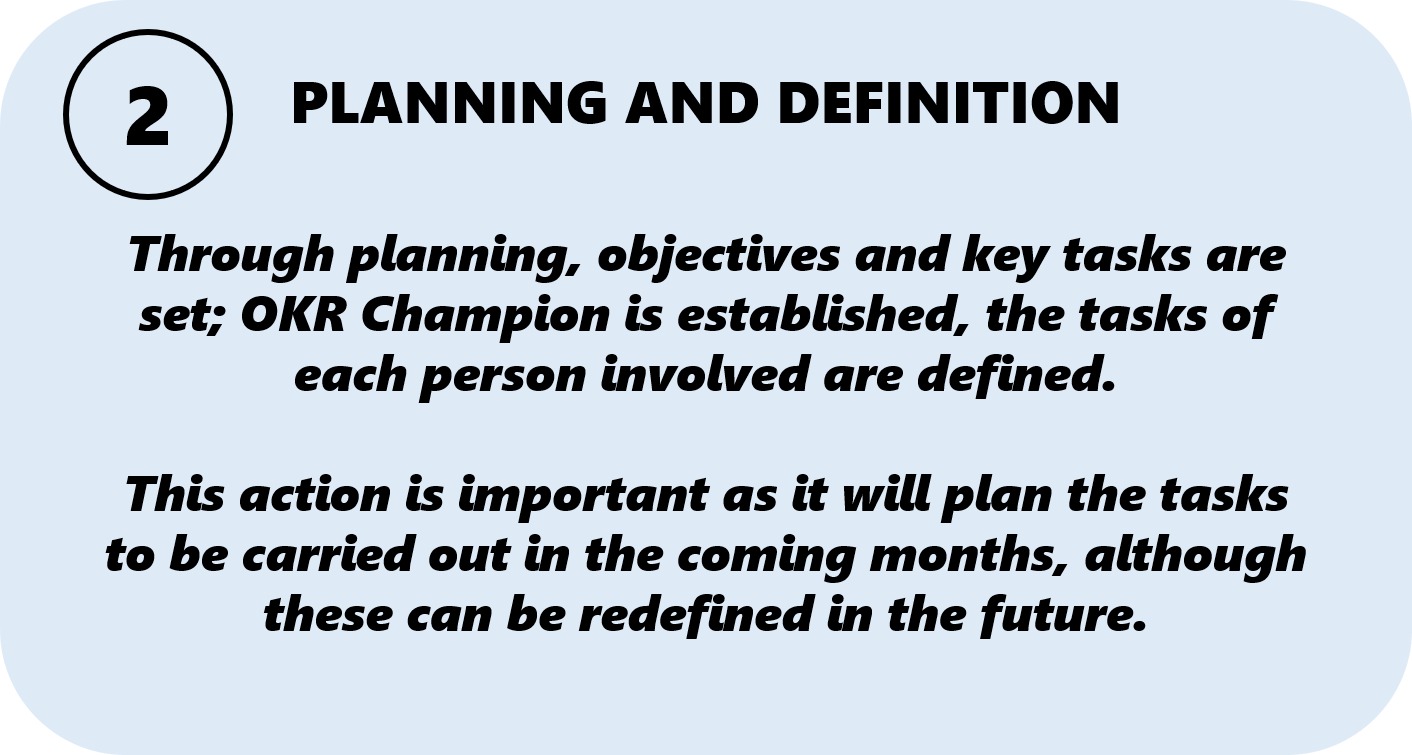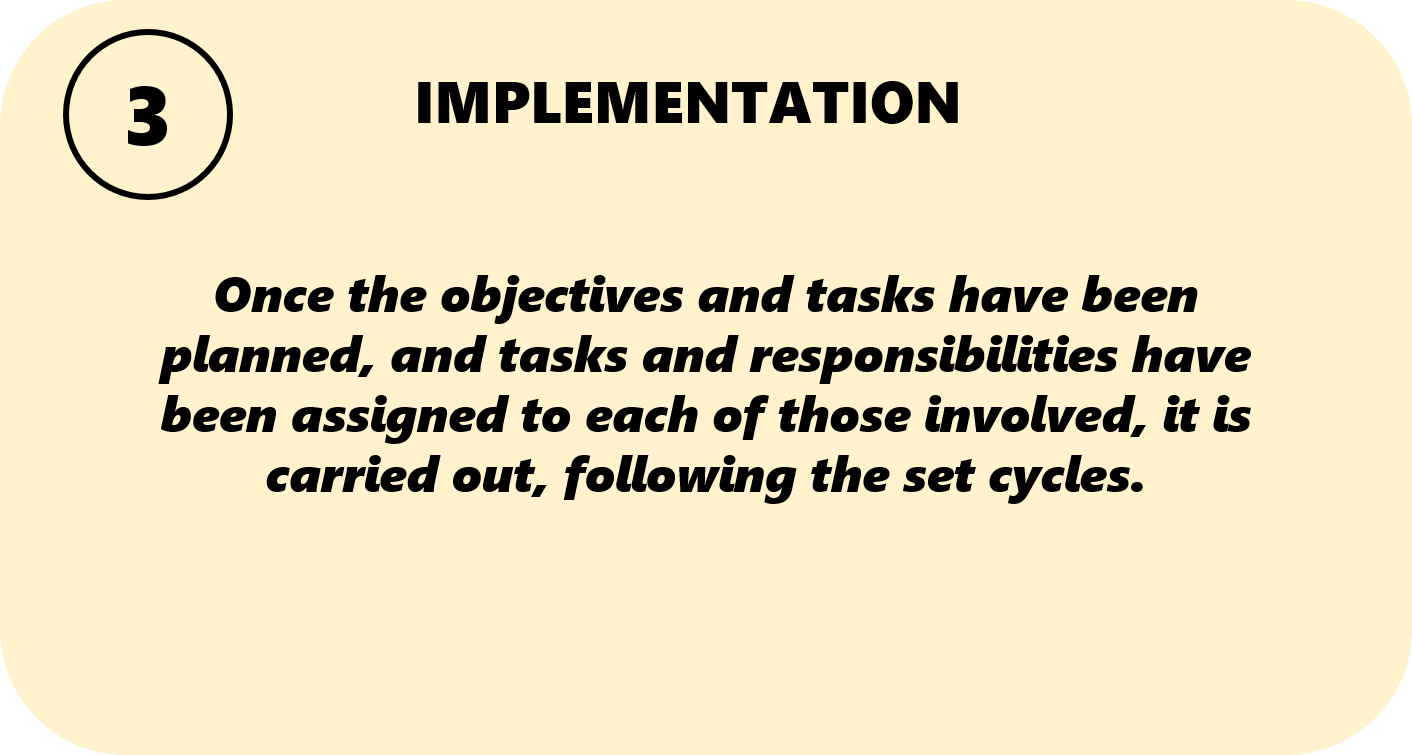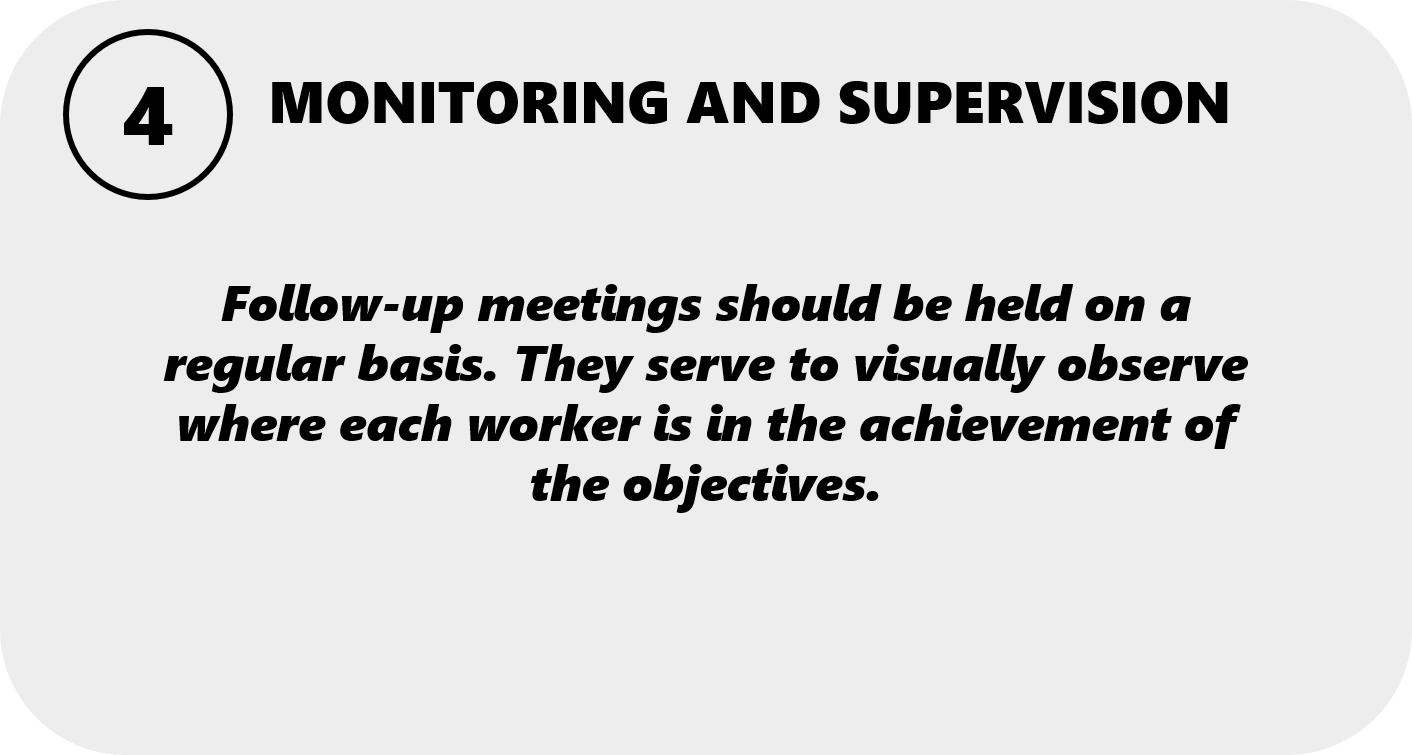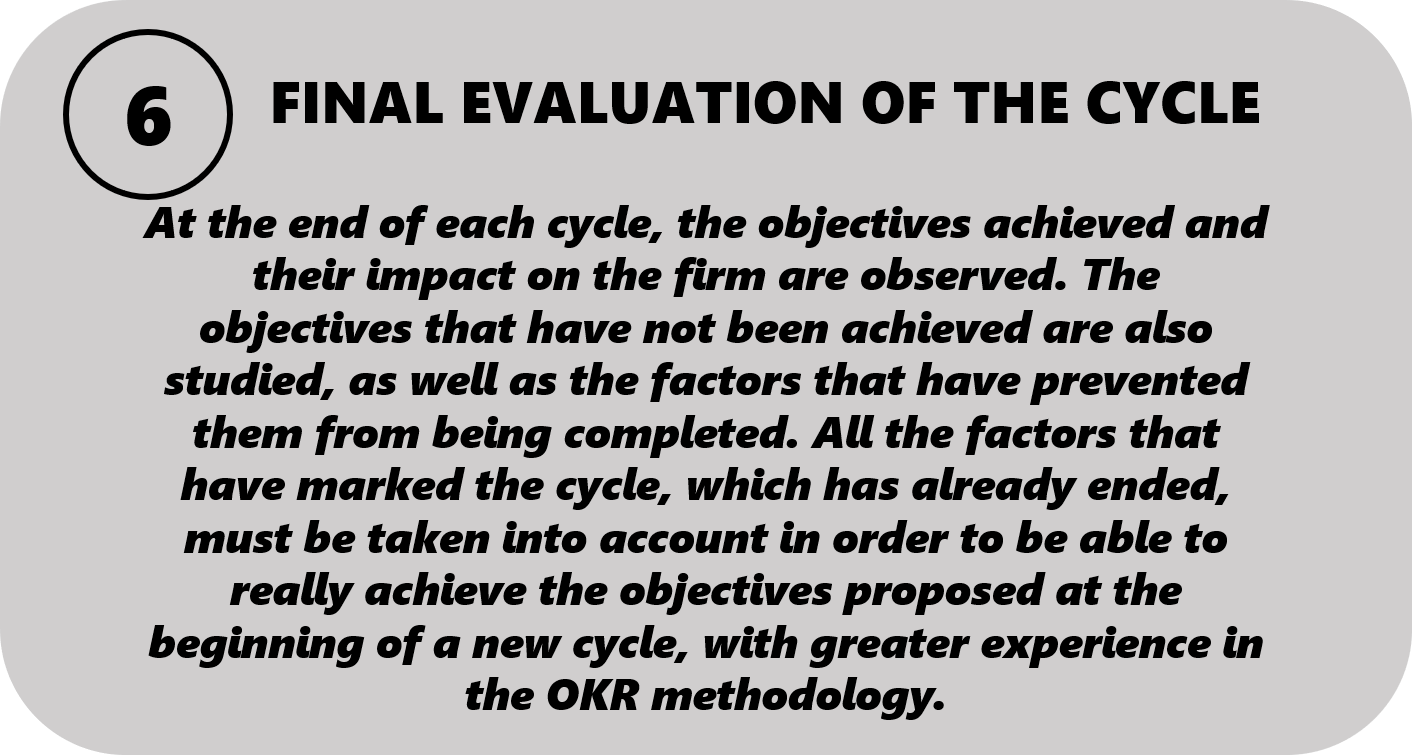 5. Ten FAQs

Here are ten frequently asked questions about the implementation of OKRs:
What are OKRs not designed for?
OKRs are not designed to measure or evaluate workers' performance, nor to determine numerical values.
Who is involved in adopting OKRs?
OKRs involve all workers, as well as management. All of them are involved in this implementation process and the feasibility of implementation depends to a large extent on all of them.
Who has to be trained on OKR?
All workers who are going to collaborate in the implementation and start-up of OKRs must have appropriate training on this methodology and also on the tools and applications that can be used to carry out all their tasks and supervisions in a comfortable, joint and visual way. This training also involves the OKR Champion or the team that will lead and supervise the implementation. It is therefore essential that all those involved have a clear understanding of how OKR works and its benefits and consequences for the firm.
What is a typical mistake we might make when planning OKR?
A common mistake is to set objectives that are not relevant to the firm. In general, key objectives should be ambitious, so that they involve the vast majority of the workforce.
What needs to be taken into account when planning OKRs?
You need to think and rethink about the long-term goals of your firm and set a timeframe for their achievement. Each of these objectives has to represent a mission. If any of the objectives are unclear, discard them.
Who is the best person to lead and oversee the OKR implementation process?
Ideally it should be the CEO, but in many cases it could also be someone else on the executive team - a senior executive with a clear mandate to essentially support and underwrite the investment the organisation is making to implement OKR.
Do you have to involve all employees from the beginning?
The important thing is to involve the senior management team, as they will provide more means and funding for the implementation of OKRs. The team leading this adoption has to be involved from the beginning. Employees will be involved as key objectives have to be set and training is carried out.
Is the OKR methodology applicable in any organisation?
Any firm can benefit from OKR and the obstacles to its successful adoption have less to do with the type of organisation and more to do with the awareness and maturity of the leadership teams within those organisations.
Is their application also advisable for law firms?
Law firms can benefit from the benefits of OKRs, as they improve cooperation between all lawyers and other staff in the pursuit of common goals.
What factors can hinder the use of OKRs in a law firm?
Lack of communication, lack of transparency, a very strict organisational structure that is not open to change. These are factors that could make the implementation of OKRs less viable.